"I almost named the wine Serendipity because I discovered the technique which produces this wine by pure accident."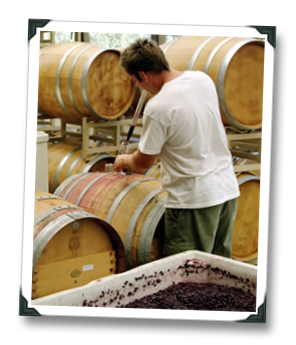 This is a story that I've been chomping at the bit to tell for months.  It's the kind of story that makes you excited about the influx of talented, young winemakers in the Napa Valley, who are shaking things up with an attitude and passion that probably hasn't been seen in the Valley since John Trefethen accidentally exploded a trash can full of fermenting juice in his basement in the `70s.
The quote that kicks off today's article comes from Modus Operandi Cellars owner and winemaker Jason Moore.  And he is either a bit of a genius, a bit ingenious, or certifiably nuts (or some combination of the three), depending on whether or not you come from the traditional U.C. Davis school of California winemaking.  The story of the wine – called Antithesis – is the kind of stuff that is a bit stranger than fiction – in other words, you can't make this kind of stuff up if you tried – which is why I'm excited to tell it.  Or, I should say, I'm excited to have Jason tell it, which he did via a recent e-mail exchange.  In that way, this article is part wine review, and part interview:
"In 2006 I had a little problem with one of my fermentations… the yeast stopped fermenting which left me with about two brix of sugar to ferment. I knew that the winemakers usual response to this issue is to prepare a new yeast build up and re-inoculate. I also knew that this is horrible for ultimate wine quality so I reeeeeally don't like to do it… only as a last resort. So, I learned a trick from Phillippe Melka which has the ability to solve the fermentation problem while still retaining as much wine quality as possible."
Before we talk about how Jason (quite creatively) overcame this little conundrum, I need to tell you a bit about the wine itself, which I first tried back in February during a get-together at Vintank HQ in downtown Napa.  Jason was pouring the `07 Antithesis (among some of his other M.O. wines).  I was struck by the quality and depth of the wine; I knew that it stood out as special, but couldn't quite put my finger on why – that didn't become totally clear until Jason described the strange history of the wine, which, as you will soon discover, is sort of like a twisted CA version of Valpolicella Ripasso.
Jason kindly agreed to send me a sample for review so that I could taste the wine under more controlled circumstances. And I enjoyed it just as much the second time around…