That about sums it up: THANK YOU!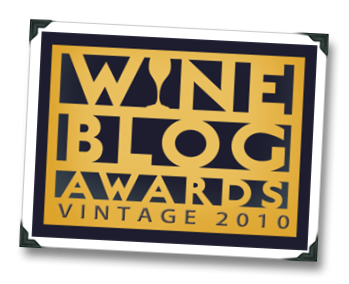 I've just returned from Walla Walla, WA where I was both a panelist and attendee at the 2010 Wine Bloggers Conference.  As if that sentence didn't contain enough Ws for you, I also was honored (and humbled) with the 2010 Wine Blog Award for Best Overall Wine Blog.
THANK YOU to all of those who nominated and voted for 1WineDude.com – and thanks especially the readers and frequent commenters who are the ones primarily responsible for making this blog as successful and fun as it is.  Congratulations to all of the winners and finalists – they are all great, great blogs that are well worth your time.
I also made a speech, for which I felt quite unprepared but it seemed to go over well enough. I met friends, old and new, and learned that when you wine a WBA and stand still for more than 2 minutes in a room with lots of PR folks, you will have some of those (less sensitive) PR people actively block your way to the bathroom in order to talk to you and get your business card.
I also got interviewed a lot (or at least it felt like a lot to me); a fun one with the Wine Biz Radio guys appears at the beginning of the embedded video below (followed by interesting interviews with lots of other bloggers, winemakers, and cool PR people).
I tasted some wines, of course, and visited some wineries, and hung out with some wine personalities, and I do plan to write about all of that; I also plan to write a tribute to my dog, Sam, who passed away while I was at the conference. But I need to decompress first, and process the whirlwind emotional roller-coaster of the weekend that was WBC and WBA.  And maybe remove the W key from my keyboards (not sure that last one is such a good idea, actually).  More to come; for now – there's a ton of WBC coverage happening in the blog-o-world.
Thanks again; I will try to "do right" and reinforce the vote of confidence that you've been kind enough to give me!
(video after the jump)…
Cheers!