"I almost named the wine Serendipity because I discovered the technique which produces this wine by pure accident."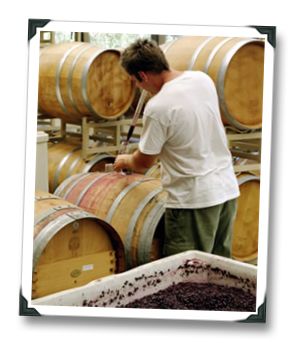 This is a story that I've been chomping at the bit to tell for months.  It's the kind of story that makes you excited about the influx of talented, young winemakers in the Napa Valley, who are shaking things up with an attitude and passion that probably hasn't been seen in the Valley since John Trefethen accidentally exploded a trash can full of fermenting juice in his basement in the `70s.
The quote that kicks off today's article comes from Modus Operandi Cellars owner and winemaker Jason Moore.  And he is either a bit of a genius, a bit ingenious, or certifiably nuts (or some combination of the three), depending on whether or not you come from the traditional U.C. Davis school of California winemaking.  The story of the wine – called Antithesis – is the kind of stuff that is a bit stranger than fiction – in other words, you can't make this kind of stuff up if you tried – which is why I'm excited to tell it.  Or, I should say, I'm excited to have Jason tell it, which he did via a recent e-mail exchange.  In that way, this article is part wine review, and part interview:
"In 2006 I had a little problem with one of my fermentations… the yeast stopped fermenting which left me with about two brix of sugar to ferment. I knew that the winemakers usual response to this issue is to prepare a new yeast build up and re-inoculate. I also knew that this is horrible for ultimate wine quality so I reeeeeally don't like to do it… only as a last resort. So, I learned a trick from Phillippe Melka which has the ability to solve the fermentation problem while still retaining as much wine quality as possible."
Before we talk about how Jason (quite creatively) overcame this little conundrum, I need to tell you a bit about the wine itself, which I first tried back in February during a get-together at Vintank HQ in downtown Napa.  Jason was pouring the `07 Antithesis (among some of his other M.O. wines).  I was struck by the quality and depth of the wine; I knew that it stood out as special, but couldn't quite put my finger on why – that didn't become totally clear until Jason described the strange history of the wine, which, as you will soon discover, is sort of like a twisted CA version of Valpolicella Ripasso.
Jason kindly agreed to send me a sample for review so that I could taste the wine under more controlled circumstances. And I enjoyed it just as much the second time around…
Antithesis is not a wine for the squeamish – it's enormous. Big dark fruit.  Big dark tannins.  Big alcohol (15% abv).  But it's also a balanced wine; there's enough acidity in those juicy, ripe, dark blue & black fruits to suggest that Antithesis will stand up to bottle aging, and I found myself wondering how it might taste in 6 to 7 years.  Those who hate on big CA wine styles need not apply; those that enjoy them will have some of their wine mind blown by this wine.
Now back to our creation story…
When we last left Jason, he was dealing with the conundrum of stuck fermentation:
"Consider this: you have 2 tanks fermenting, one sticks and the other rocks through perfectly. What you can do is take the wine from the good tank and barrel it down without pressing the skins (skins remain in the tank). You take the stuck wine, press the skins and toss them, then transfer all of the stuck wine into the tank that has the good skins. The yeast that are in and around the skins in the good tank are ready to go… they are viable, and alcohol acclimatized and can (usually) ferment the last little bit of sugar that remains to be fermented in the stuck wine."

"WELL… classically and historically, you would pass Cabernet over Cabernet skins, Merlot over Merlot skins… like wine over like skins. BUT, I didn't have another tank of like wine/skins available at the time that my little problem occurred. SO, even though it wasn't ideal (so I thought at the time), I did what I had to do… I passed my stuck Merlot over my Petite Sirah skins. I initially kind of wrote the wine off and had planned on using it to top all of my red wines for the next few years until it was gone. That changed about four months later when I was tasting through the barrel lots! When I came across those barrels, I literally said to myself, "holy shit, that is good!" and from then on I knew that my original thought that I would some day have a high end Bordeaux blend as my "special wine" was no longer the plan."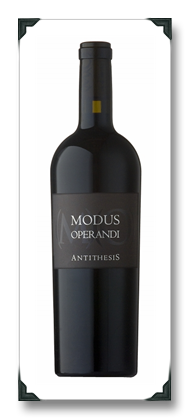 When I read that, it's refreshing to me because it genuinely comes off as a young winemaker following his gut, and his palate, instead of going with an (arguably safer) existing trend.  If you liked that, then you're gonna love this:
"Everybody has a high end Bordeaux blend… this wine is special and its unique on several different levels… and it really speaks to me as a young winemaker/vintner in that the word antithesis is Latin for 'the exact opposite', and that's exactly what I am. I didn't make a billion dollars in some other industry and retire to Napa to start my winery because I thought it would be neat and give me status. I moved my family and my broke ass half way across the country in pursuit of my dreams because I FUCKING LOVE WINE! So, I'm the opposite of a lot of my colleagues out here. Also, I have asked a countless number of very knowledgeable people if they have ever heard of a wine being produced in this manner and the answer is a resounding NO. The varieties that are used, the passing over for the last quarter of fermentation, the dependence on timing to make it work is the antithesis of traditional vinification."
Like I said, there's some passion that's at least on par with Trefethen's unstable trash-can fermentation, right?  There's a bit more to tell about the second vintage (2007) of Antithesis, which presented a different "problem" – how do you recreate the experiment of a stuck fermentation when the fermentation isn't stuck?
"The 06 vintage was the vintage of serendipity… the 07 vintage was the vintage of refinement and design. I thought to myself, "if it worked that well with equal parts merlot and petite, I'll bet I can improve it by doubling up on the petite" so I bought 1 ton of merlot, and 2 tons of petite. This year, both wines fermented perfectly (nothing stuck) so there was no need to press the merlot away from the skins. This meant that I would be passing (by volume) 3 tons of skins over 1 ton worth of wine. With this, I could see that there was potential for a tannic disaster with all of those seeds (harsh tannins – catechins -come from the seeds) so I had to, somehow, address that. What I did: took the petite skins and loaded the press, rolled upside down to allow gravity draining (without pressing), unloaded the skins and rolled out the shaker table, passed the skins over the shaker table with the goal of having the seeds drop thru the waste grates thus allowing the skins to pass by sans seeds. Those seedless petite skins were then dumped into the merlot tank and marinated for about two weeks of extended maceration. The wine was then pressed and placed into my best, hand selected new French oak barrels. And that is the story…"
I asked Jason if other winemakers thought he was nuts when he tried to reproduce the process. "They did call me crazy for putting post-fermentation skins over the shaker table as they said "we usually do this before we ferment". I told them that I wasn't a programmed Davis guy and was trying something new and it totally worked," he responded.
If you want to purchase the Antithesis, you'd do well to move quickly. According to Jason: "he 75 cases that I made of the 2007 vintage will be the only 75 cases produced in THREE VINTAGES as I will not bottle an Antithesis in 2008 or 2009… it just didn't work out with timing and I'm not going to force the wine."
Cheers!
(images: moduswines.com)