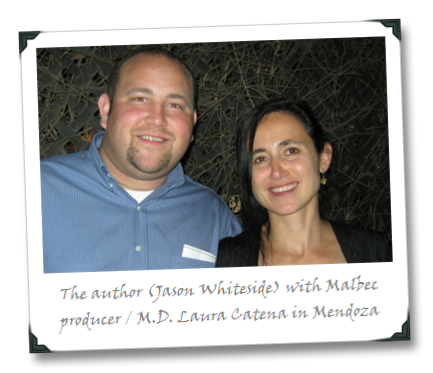 This is a guest post from frequent 1WineDude.com contributor Jason Whiteside, who recently attained his WSET Diploma in Wines & Spirits (with Merit).  Jason recently returned from a trip to Argentina, cataloged below, in which he went inside Bodega Catena Zapata to answer the question "How Well Does New World Malbec Age?"  His trip recap. coinincides nicely with an interview I recently gave for WineSur.com, in which they asked me about the state of Argentinian wine in the U.S. (for some reason, they left out my comment that Argentinian Malbec needs to prove its high-end age-worthiness… oh, well…).  As an added bonus, Jason also gives us a peek inside the mind of your physician in the era of health care debate.  Enjoy!
I recently spent a week in Mendoza, Argentina on a singular, secret mission assigned to me by The Dude: find out how well Argentine Malbec will age. The assignment seemed simple enough; I was headed to Mendoza anyhow as guests of Winebow and the Catena family. If anyone knew about the age-worthy qualities of high-end Malbec, it was the folks at Catena. What I didn't know is how hard I would work to find the answer, and that I would have to rely on years of elite training in a secret language to get the answer.
Laura Catena isn't just the President of Bodega Catena Zapata. Even with all of the responsibility that alone entails, she has a life outside of wine. She is also Laura Catena, MD, and an Emergency Room Physician at UCSF. When I uncovered this little fact about her, I knew I'd leave Mendoza with an answer to our collective Malbec question. You might not know this about me, but I was trained to speak DOCTOR.
It has been many years since I was a professional doctor-botherer. I don't speak about it much, but it is indeed a part of my pre-wine life. Before my career in wine sales and education, I was a Pharmaceutical Salesman. Pfizer, Johnson & Johnson, AstraZeneca; I was trained by the best. Almost nine years of my life were spent charming receptionists, nurses, and anybody else in the way, just so I could get 45 seconds of a doctor's time, in order to tell him/her some science stuff he/she already knew. The job was a big waste of time, but the sales training was priceless. And learning how to speak DOCTOR sometimes really pays off…