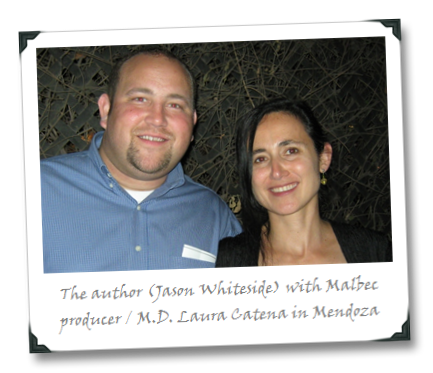 This is a guest post from frequent 1WineDude.com contributor Jason Whiteside, who recently attained his WSET Diploma in Wines & Spirits (with Merit).  Jason recently returned from a trip to Argentina, cataloged below, in which he went inside Bodega Catena Zapata to answer the question "How Well Does New World Malbec Age?"  His trip recap. coinincides nicely with an interview I recently gave for WineSur.com, in which they asked me about the state of Argentinian wine in the U.S. (for some reason, they left out my comment that Argentinian Malbec needs to prove its high-end age-worthiness… oh, well…).  As an added bonus, Jason also gives us a peek inside the mind of your physician in the era of health care debate.  Enjoy!
I recently spent a week in Mendoza, Argentina on a singular, secret mission assigned to me by The Dude: find out how well Argentine Malbec will age. The assignment seemed simple enough; I was headed to Mendoza anyhow as guests of Winebow and the Catena family. If anyone knew about the age-worthy qualities of high-end Malbec, it was the folks at Catena. What I didn't know is how hard I would work to find the answer, and that I would have to rely on years of elite training in a secret language to get the answer.
Laura Catena isn't just the President of Bodega Catena Zapata. Even with all of the responsibility that alone entails, she has a life outside of wine. She is also Laura Catena, MD, and an Emergency Room Physician at UCSF. When I uncovered this little fact about her, I knew I'd leave Mendoza with an answer to our collective Malbec question. You might not know this about me, but I was trained to speak DOCTOR.
It has been many years since I was a professional doctor-botherer. I don't speak about it much, but it is indeed a part of my pre-wine life. Before my career in wine sales and education, I was a Pharmaceutical Salesman. Pfizer, Johnson & Johnson, AstraZeneca; I was trained by the best. Almost nine years of my life were spent charming receptionists, nurses, and anybody else in the way, just so I could get 45 seconds of a doctor's time, in order to tell him/her some science stuff he/she already knew. The job was a big waste of time, but the sales training was priceless. And learning how to speak DOCTOR sometimes really pays off…
On day two of my trip, Laura led a tasting of six current-release wines at their beautiful winery facility. At the end of the tasting I scurried to catch up with her. Still weary from my 28 hour journey to Mendoza, I caught her attention and blurted out the question that was my mission: "How do you think your high-end malbecs will age?"
She hit me with the Doctor-standard response, the old 'question with a question': "How do you think high end malbecs will age?"
I should have seen that coming. Standard procedure for physicians: Scenario #1 Patient:"Doc, my foot is killing me. It hurts every time I move." Doctor:"Why do you think your foot hurts?" A precisely placed question to a question can give physicians a lot of answers. But I didn't take three sweaty flights and two bumpy buses halfway around the world length-wise just to answer my own damned question. So I reverted back to drug salesman mode, and used the secret language.
Simply put, doctors think in terms that can be summed up with an acronym that spells SOAP. It stands for Subjective – Objective – Assessment – Plan. Doctors are incredibly complex creatures; brilliant, dedicated, hardworking. It is difficult to sum up the way they diagnose in four words, but the essence of differential diagnosis is contained within this framework. For example:
Subjective [how the patient describes their feelings] I'm in agony; my foot is killing me!
Objective [from the physician's objective point of view]. He is in obvious pain. Swelling in one foot; tender to touch, but no obvious signs of trauma.
Assessment [let's ask questions and run some tests] What do you think is wrong? ("It might be gout. I have a family history and love port wine and lobster"). [See why the questions are helpful?] More assessment: "Let's get an X-ray just to be sure you didn't break anything, and we'll do a blood test to check and see if your uric acid levels are high, which could help confirm gout." X-ray is negative, uric acid is through the roof.
Plan – Treat for Gout. Prescribe pain and anti-gout medication, plus rest. Limit lobster and wine port wine.
So how did I use this divine logic to unlock the mystery of Malbec and its ability to age. After Laura turned the tables on me, I paused, composed myself, and asked the question again, in SOAP fashion:
[S] JW: "Many serious wine collectors who get to try Catena's vineyard designate bottles absolutely love them in youth. The lingering question is how these wines will age. If at all possible, could we try an older Malbec, and answer this question?"
[O] LC: "In my experience, these wines age beautifully. They contain the polyphenols and polysaccharides and fruit character to improve for decades. I'll try and pull an older one and let you assess for yourself."
[A] Later that evening, Laura Catena appears next to me with a 2000 Catena Alta Malbec. While not necessarily the oldest Malbec in her cellar, she wanted to show one with age that was representative of their current style of winemaking. My assessment is as follows: After 10 years, still an intense purple color, indicative of youth. The wine had a medium intense, slightly developing nose of blackfruits, black plums, violets, and a sweet spice like star anise. The only real sign of development was a hint of dried lavender. On the palate this wine had the same blackberry and plum skin, with a medium body and ripe but firm tannins supported by a refreshing acidity. There were also lingering notes of baker's chocolate and dark minerals on the finish that lasted longer than expected.
[P] There is no denying that the well made Malbecs coming out of Mendoza are big, fruit forward wines. I drank a lot of them, for a straight week. The very best, such as the Catena Alta level and the vineyard designates (Adrianna, Nicasia), are well balanced, but you won't mistake them for Chinon or Beaujolais. Diagnosis: If this is the style of wine you enjoy drinking and collecting, buy with confidence and hold onto them for 15+ years. These wines don't develop quickly. Wines saturated with natural anti-oxidants that possess alcohols in the range of 14% (and up) develop their tertiary characteristics slowly. In my firsthand observation, I can assure you of two things: wine made from this new rock star of a grape will not deteriorate quickly (as some feared), and they will provide extra layers of development as they age over a long period of time. If you like luxurious wines with dark fruits, these vineyard-designate wines represent a great deal of relative value for money, and they are well-suited to long term care.
/JW
Cheers!