Closing in on the ninth decade, the beret and the smile are still unmistakable.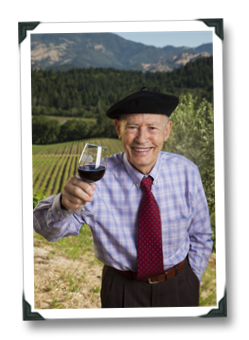 Miljenko "Mike" Grgich, now a California winemaking legend, turns 90 this year. For those who aren't familiar with the tale, Mike's life story could make fitting fodder for a TV wine drama: one of eleven kids; stomped his first grapes at age three; fled communist Yugoslavia in the 1950s; hit the Napa Valley wine scene just as it first began to bud, studying under the master  André Tchelistcheff; for all intents and purposes, practically invented the sciences of controlling cold sterilization, malolactic fermentation, and the proper use of oak barrels for wine; eventually went on to establish well-regarded and successful wineries under his own name.
The biggest feather in the beret, though, was the triumph of one of his wines – a Chateau Montelena Chardonnay – at the 1976 Paris tasting, an event that put California (and, to a large extent, all U.S. wines) back on the global fine wine map for good (for a detailed account of that fabled tasting, check out George Tabor's excellent Judgement Of Paris).
Mike has been sunning himself in Palm Desert, but I was invited to catch up with him over email to talk about his wines and his legacy. At 90, the guy is still a sharp as a tack. Here's the conversation I had with Mike, which includes his advice for advancing your own tasting prowess, followed by a  few thoughts on some recent releases from the apple of his vinous eye, Napa Valley's Grgich Hills…
1WineDude: You've seen a lot of changes in the wine world over the years. What do you consider the biggest change? What's had the most impact to the wine world since you started making wine?
Mike Grgich: For wine, I believe the Paris Tasting changed the world of wine, both in Napa and the rest of the world. After the 1976 Paris Tasting, premium wineries used more oak barrels and began aging wine on the lees. In 1976, there were maybe 30 wineries in the Napa Valley; today, there are more than 500 wineries, just in the Napa Valley. For the vineyard, when vineyards were replanted with phylloxera-resistant rootstock and budded over to virus-free Vitus viniferous buds that were developed by UC Davis. These vines are healthier and can reach maturity easier than the diseased vines in the earlier days. Plus, these vines will live longer and develop more complex flavors.
1WD: You've said in interviews that the wine business needs more artistry. What did you mean by that? How would you define artistry in wine?
MG: Art is hard to define but in my judgment, just as painters use paint to create works of art, winemakers can use their heart, soul, feelings, passion to create individuality in wines that people can recognize as a piece of art. In the 1960s, I attended a lecture by Dr. Singleton of UC Davis about the future of winemaking and wineries. He believed that wineries would be built in the round, with a computer in the center of the circle, surrounded by tanks with water, sugar, acid…and all of the other components of wine and the computer would make the perfect wine by mixing just the right blend of these ingredients. However, about 10 years later, I was in Los Angeles and I again listened to Dr. Singleton speak, and he then said, the perfect wine has not yet been made but it could not be made by a book or industrial means but by an artist who is a winemaker.
So, there is art in winemaking, just the same as other professions.
1WD: Do you have any examples of winemakers or producers who you think are doing it right?
MG: I respect every winemaker so I don't want to mention just one or two and to hurt someone's feelings if I forget to mention them.
[ Editor's note: after pressing on this, Mike did offer up the following list of winemakers that he has mentored… and it's pretty damned impressive…
Kristof Anderson Winemaker, Gargiulo Vineyards
Jeff Bacchus assistant vineyard manager, Robert Sinskey Vineyards
Bo Barrett winemaker, Chateau Montelena
Gus Brambila owner/winemaker, GustavoThrace Winery
Duane Dappen owner/winemaker, D-Cubed Cellars
Gary Ecklin, chief enologist, Grgich Hills Estate for 30 years
Gary Galleron Whitehall Lane, Grace Family, Hartwell, Vineyard 29, Del Dotto, Seavey and William Harrison Vineyards.
Greg Hahn microbiologist, Diageo Estate
Ivo Jeramaz Vice President of Vineyards & Production, Grgich Hills Estate
Zelma Long Currently, Winemaking Partner for the Vilafonté South Africa, previously Simi Winery and Robert Mondavi Winery, where she worked for Mike Grgich.
Darrin Low winemaker, Flowers Vineyard
Bob Masyczek previously worked as winemaker for Cuvaison, and Beaulieu Vineyard.
Dave Pirio vineyard manager, Chappellet Winery
Michael Roth winemaker, Demetria Estate
Mark Smith winemaker, Hawkcrest, Stag's Leap Wine Cellars
Ross Wallace assistant winemaker, Hunnicutt
Jerry Zoeller part of winemaking team, Flora Springs
…okay, back to our regularly-scheduled interview, already in progress… ]
1WD: You've had a lot of success and no shortage of accolades over the years, and are already in the Culinary Institute's Vintners Hall of Fame. How would you sum up your legacy?
MG: Wherever I have worked, I consistently improved the quality of the vineyards and the wines. I believe no one has yet made the perfect wine but our goal at Grgich Hills is to one day make a perfect wine.
1WD: Excluding your own, what are some of your favorite wines?
MG: I'm asked this question a lot and I always say that since I opened Grgich Hills, I drink the best possible wines, and that is Grgich Hills!
1WD: Of all of the wines that you made, do any stand out as being particularly special to you now?
MG: The first that comes to mind is the 1973 Chateau Montelena Chardonnay that I crafted, which won the Paris Tasting. As I said earlier, that tasting changed the wine world. And, it allowed me to start my own winery in 1977.
Second would be the 1977 Grgich Hills Chardonnay. In a blind tasting of 221 Chardonnays from all over the world at the Great Chicago Showdown in 1980, it was proclaimed the winner. After winning the Paris Tasting and then the Great Chicago Showdown, people started calling me "The King of Chardonnay."
And third, I felt great satisfaction when in 1999 a commission of Croatian winemakers elected my Pošip 1997 and Plavac Mali 1997 from my winery in Croatia, Grgić Vina, to represent the Croatian wine industry along with Croatian food at the United Nations for one month. I was honored to present the wines to delegates and media at a dinner featuring traditional Croatian food.
1WD: What advice would you give to someone just starting out exploring fine wine?
MG: My father always said, "work hard and learn something new every day." So, if you're learning about wine, you need to work at it every day. Use your God-given senses to taste and memorize what you are tasting. In a while, you will become an expert.
————————————————————————————–
Some 1WD thoughts on a few of Grgich Hills recent releases are below. You'll notice that they're all designated as Crowd Pleasers – that's because, well, they're all crowd pleasers. They also all have the same relative quality rating, which isn't a copy/paste error; it's because I found them all to be of the same relative (high) quality. Interestingly, there is another commonality that ran through all of the Grgich Hills wine samples I tasted, which is  that they are all quite textural wines; the tension and complexity in them comes primarily from the interplay of the wines' fruitiness and how they feel in your mouth, rather than from aromatic complexity. In other words, they're not profound, but they are delicious, well-rounded, and I stogly suspect will remain that way for several years in the bottle:

2010 Grgich Hills Fume Blanc Dry Sauvignon Blanc (Napa Valley)
Price: $30
Rating: B+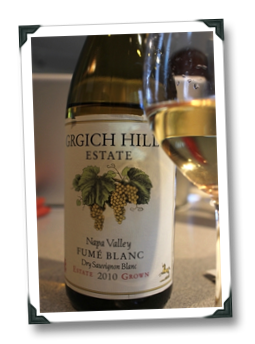 The cooler 2010 Napa vintage did right by Sauvignon Blanc in this case; there's more jalapeño than in a stack of nachos, more hay put in front of you than most thoroughbreds get for a snack, and it has more personality than Mr. Ed (does anyone remember Mr. Ed? No? Aw, crap…). It's fairly heavy but also fairly heady, and the oak barely intrudes on the freshness at all.

2010 Grgich Hills Chardonnay (Napa Valley)
Price: $42
Rating: B+
This is like drinking lemon-infused mineral water from a toasted wood mug, which sounds odd but it totally works. Tropical, pithy, smoky and easy to like, with just a hint of creamy roundness. While it finishes a touch woody, it also finishes long and lovely.

2009 Grgich Hills Cabernet Sauvignon (Napa Valley)
Price: $60
Rating: B+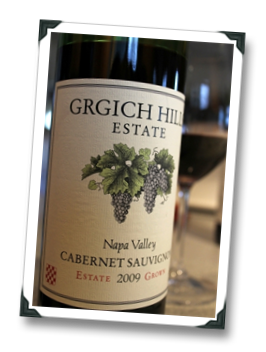 Big but not oafish. Here we've got dense black fruit, along with black licorice, wearing dusty boots, clipping herbs from the garden and sharing an interesting conversation over a few cups of espresso.

2009 Grgich Hills Zinfandel (Napa Valley)
Price: 35
Rating: B+
This is a pizza wine, but it wants a big slice of fresh "gourmet" pizza, the kind that is a little expensive and comes in configurations like BBQ chicken. Pepper and dust come to the forefront, with jammy plums, vanilla and blackberries coming up behind them. It's tart and energetic, which belies the > 15% abv booziness. The finish offers a sort of long, leisurely, take-your-time-we're-not-closing-for-a-while-yet dessert course of coffee, sweet red and blue fruits and vanilla.
Cheers!