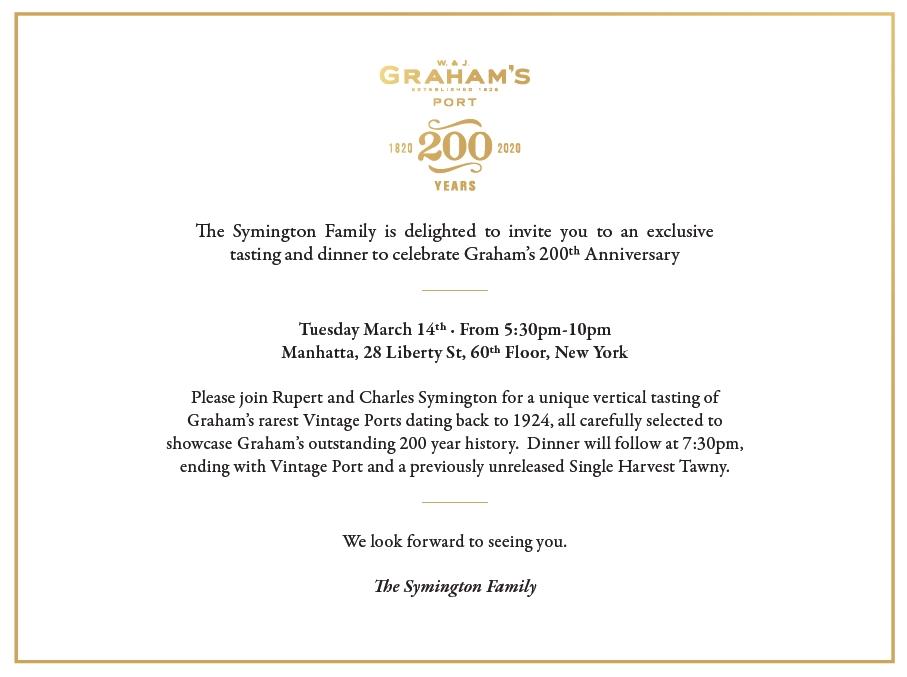 Whoooooaaaa, boy.
This past March, I had the extreme fortune to have been invited to NYC's Manhatta for a retrospective tasting of W & J Graham's vintage Ports, celebrating that venerable Port house's 200th anniversary.
Technically, it was their 203rd anniversary, as their initial plans for recognizing their 200th were derailed by the global COVID pandemic. But hey, we're letting that slide because… VINTAGE PORTS, people!
You might expect that such an event would be filled with f-cking epic wines, and it was. So many, in fact, that I am going to do a two-parter to showcase most of them. See, I do this intensely difficult work for you guys. You're welcome.
First, a bit of a history lesson: W & J Graham's got its official start in 1820, when Scottish brothers John and William Graham founded the company in Porto. Over the next few decades, they built up a reputation for excellent vino, and built a stone winery facility at Quinta dos Malvedos in the Douro in the 1890s, where Graham's still makes their Port wines. At about the same time, a young Andrew James Symington set sail from Scotland to Porto, taking up a job with the Grahams. As the story goes, "AJ" fell in love with the region; but he also fell in love with Port magnate Beatrice Leitão de Carvalhosa, to whom he got hitched.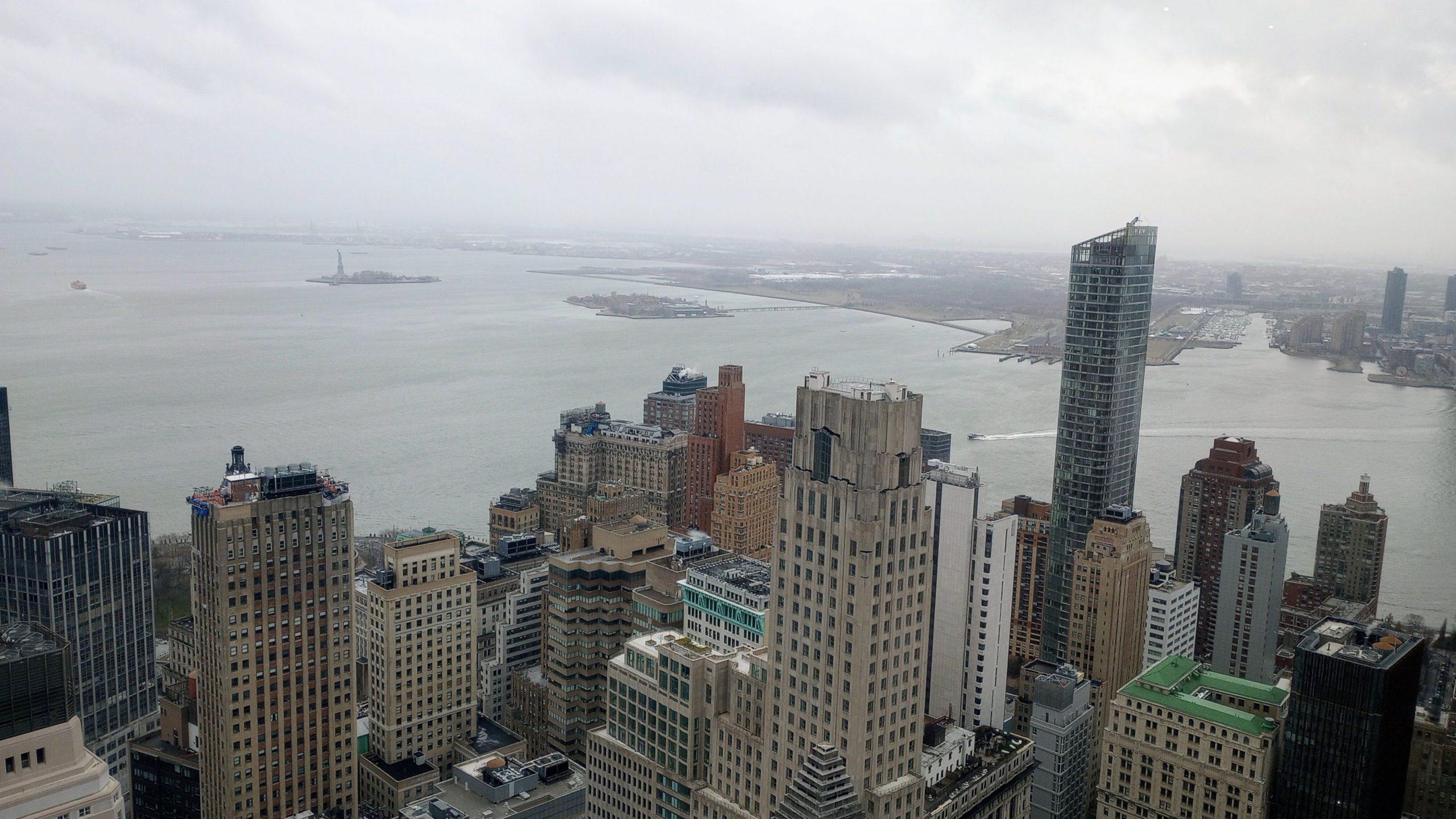 Fast-forward to 1970: AJ's grandsons happened to acquire Graham's, and its been in the Symington family ever since (with Rupert and Charles Symington now leading the charge, alongside eight other family members in the 4th and 5th generations). They claim to currently be the most valuable Port brand in the USA market.
When it comes to Vintage Port, the best of the best tell a (bottled) story about a particular point in time. Rupert Symington had this to say about the all-hands-on-deck approach when a vintage is declared: "Declaring is a big, big decision. You're trying for a wine that gets 100 points twenty or thirty years from now. The idea is to get a wine that will age, and age gracefully."
So… how'd they do? Exceptionally well, actually…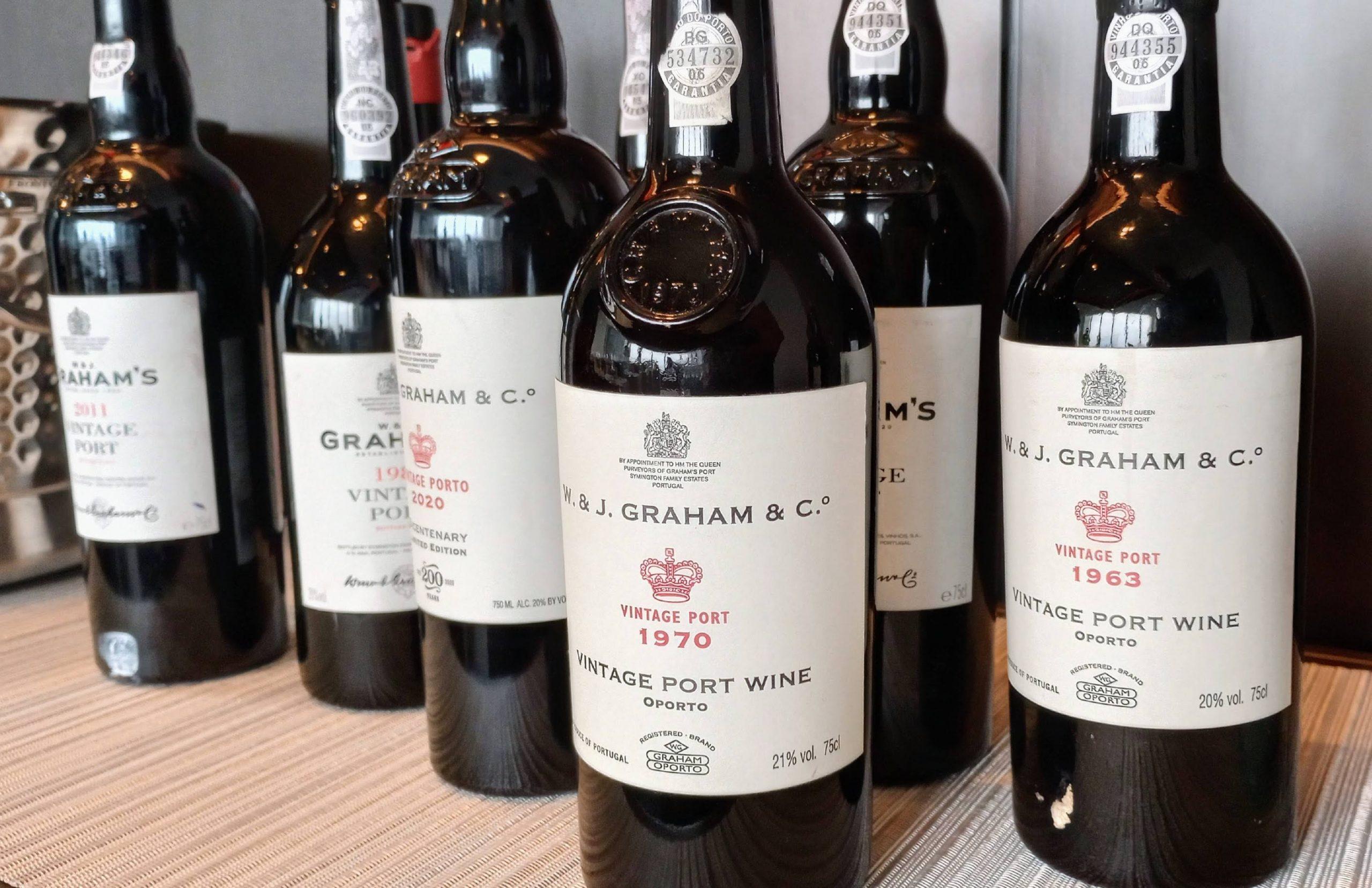 W & J Graham's Six Grapes Special Vila Velha Edition Port, $NA
First, a curve-ball. This is, of course, NOT a vintage Port, but it is a special new release from the Grahams that we got to sample during the VP retrospective festivities. This ultra-spicy little number is chock full of pepper and red fruit flavor, both of which are absolutely jumping. It's a one-off, single estate Ruby blend, and a super-friendly one.

2020 Graham's Limited Edition Bicentenary Vintage Port, $290
From a hot and dry year comes about 3,000 bottles of this peppery, floral, opulent, lifted, aromatic, and fresh VP. Interestingly, with the 2020 we get to see a new side of W & J Graham's in that their 1980s plantings that primarily source this VP are mono-varietal, rather than being traditional field blends. As you might expect, it's too young to even contemplate popping the cork on it yet.

2011 Graham's Vintage Port, $100
100% Symington estate fruit went into this 2011, hailed as a textbook vintage for both Ports and Douro table wines. "Once every ten years you get a wine that wows thge Port shippers and the market" Charles Symington explained. Salinity, fresh and dried black fruits, a fantastic mouthfeel with power and gorgeous structure, coupled with mint, chocolate, and exceptional depth, this stellar 2011 is still a babe in the crib.

2003 Graham's Vintage Port, $100
The first vintage to use their automatic lagares that were designed to emulate human foot treading, 2003 was another hot year. Despite that, there's a good amount of spiciness to this VP, along with hints of graphite. The palate elements are all enthusiastic, with fig, black cherry, dried herbs, cola, and eucalyptus all making appearances during this VP's voluptuous showcase.

1994 Graham's Vintage Port, $190
I haven't had an opportunity to re-taste this VP for about a decade. Hailing from what might be the most-hyped Port vintage ever, the 1994 delivers in terms of complexity and concentration. Surprisingly floral, it's still sporting fresh red and lack fruit aromas. The balance between power and elegance on the palate is almost ridiculously exquisite, but richness still rules above all else here. The length is epic and, incredibly, it still comes off as a young buck.

1985 Graham's Vintage Port, $150
When tasting the 1985, Rupert Symington remarked that "these wines shouldn't be as good as they are" considering the more "primitive" winemaking techniques being used as the time. Which made me feel old, since I was a teenager when this was harvested. Anyway, `85 was one of the hottest Douro vintages on record, and they had to deal with it all without modern cooling equipment at their disposal. This is BIG, minty, chocolaty, and ripe, with more black plum and dried cherries, and less spiciness. Robust and fruit-forward, this is an extremely well-crafted pop song of a VP.

1983 Graham's Vintage Port, $140
Ah, we meet again Graham's `83! I've found this wine to be a special one that's not easily understood at first—like a great King Crimson album—and this re-tasting reaffirmed that take. Made during a difficult growing year that the Symington's asserted "would've been a lot easier to cut our losses" rather than push on to craft a VP, this `83 couldn't be more different than its `85 cousin. Very minty and very spicy, the chocolate here is on the dark cocoa side of the spectrum, the fruit and structure are firm and true, and the dried fruit finish is very, very lengthy. All things considered, this `83 is one of my personal favorite VPs from any producer in any year, ever.
More to come in Part 2 next week, when we dive into W & J Graham's VPs from 1977 and earlier…
Cheers!