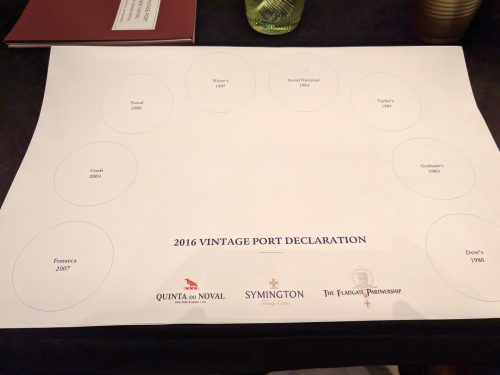 So… I promised a follow-up to that 2016 Vintage Port preview, and since I'm a man(-child) of my word, here 'tis!
The central theme of my `16 VP roundup was that we all need to slow the f*ck down and accept the fact that Vintage Port not only takes a looooooong time to come around, and that a) many of us might be dead before newly-released VPs are fully developed, but we should buy them for future generations, and b) your patience regarding waiting on the slow maturation of VP will be well rewarded.
It's time for us to get to the "b)" part, as we take a trip back through roughly thirty years of time, beginning with 2007 (when we were lamenting the state of our 401k balances) and ending with 1980 (when we were wearing JAMs, listening to disco, and some of you were probably snorting cocaine). We're going to walk through a tasting of some of the world's best "recent" Port vintages (with an average price per bottle of a staggering $367), from a tasting at which I was a media guest in NYC because, well, my life totally rocks (for more on the background of the various Port houses and their respective VP styles, see this post).
Alrighty then, wipe your nose and let's get to it…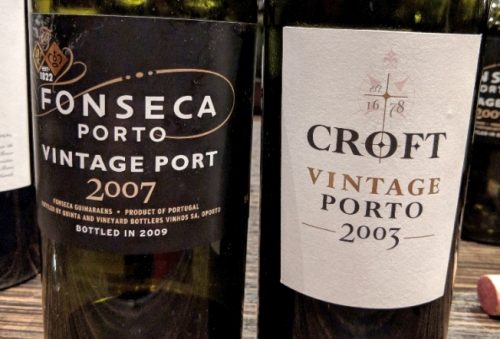 2007 Fonseca Vintage Port, $100
Big, tight, powerful, and still sporting youthful elements. It's like a rambunctious pre-teen right now in terms of its attitude, in that it's showing what it can do – in this case in the form of spice, licorice, mineral, mint, rum raisin, chocolate, and fresh and dried plums – with both verve and a haphazardly charming lack of self-consciousness. In any case, it's clearly healthy, and being raised correctly.
Exotic, herbal, deep, and spicy, this is stunning. The palate moves quickly to rum, cigar, and opulent black fruits. I was pleasantly surprised at how drinkably smooth this opulent beauty is right now, though it clearly does not lac for structure. You'll want it with some kind of dark chocolate, provided that you can wait about 15-20 more years, I mean.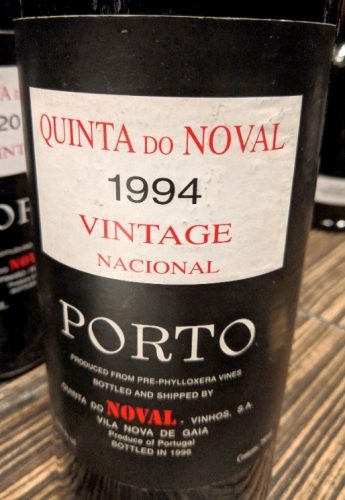 2000 Quinta do Noval Vintage Port, $100
Rum, smoke, black cherries, prunes, spices, mint, raisins, leather, tea… all of that, and a silk purse, too, at least in terms of palate feel. This is VP excellence personified, and available at the relatively reasonable price of $100 (yeah, I know…) when you consider that you could gift this to your grandchildren and it will still be VP excellence personified then, too.
1997 Warre's Vintage Port, $100
In a word, a classic. It's actually even lovely at turns, with the type of freshness not usually associated with dessert wines in general. Yeah, you get raisin and licorice and richness, but you also get fresh plum, violets, and an overall sense of elegant loveliness.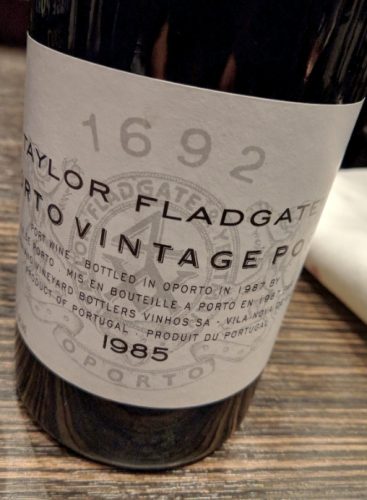 1994 Quinta do Noval 'Nacional' Vintage Port, $2000 (that's not a typo)
Harvested when I was still in undergrad, this rarity offers notes of resin, brambly spices, herbs, rum, dried fruits, mint, black cherry, green tobacco, and pepper. It's not only one of the more complex noses you're likely to ever encounter on a VP, but it's also one of the more texturally fascinating; powerful, young, structured, bold, and packing some vibrancy to help weave it all together coherently into something very much closer to art than to craft. In other words, it's ridiculously, almost life-alteringly good.
1985 Taylor Fladgate Vintage Port, $220
Delicate balance is achieved here between the riper, drier, spicier fruits and the cigar, walnut, and developed characteristics that you'd expect from thirty-plus years in bottle. The finish is forever, powerful and tinged with rum. You'll need to like them big and powerful, but if you do, there are few better than this.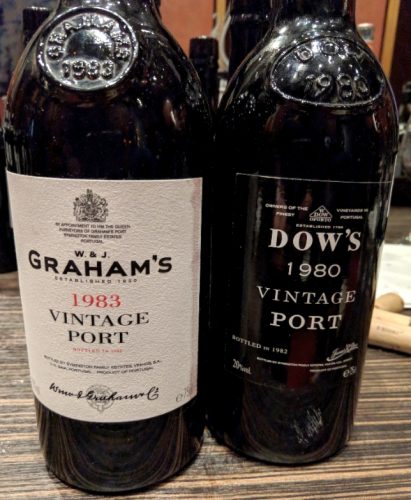 1983 W & J Graham's Vintage Port, $155
Wood spice, stewed plums, spices, minerals, prunes, raisin, rum, mint, and a craaaaazy amount of concentration and length, there's plenty left in the tank here both in terms of longevity and power. This is more hedonistic pleasure than it is contemplative specimen, but this level of hedonism kind of needs a brand new yardstick to be invented in order to accurately measure it.
1980 Dow's Vintage Port, $170
Holy shit. Holy. SHIT. This is colored almost like a much younger wine, and the palate entry is superb: hearty, substantial, and unfolding from intense, extracted plum and brandy flavors into a soft and perfumed experience that includes stewed fruits, slate, raisin, wood spice, eucalyptus, green tea leaves, espresso, cocoa, and probably a ton of other stuff that I forgot to write down after I more or less had my mind blown and just decided to drink it instead of to taste it. So, yeah, i guess it was okaaay…
Cheers!