Here we are again… and by "we" I mean "me," waxing not-so-poetic about some of the samples that I receive that cannot be imbibed (at least, not without the use of a blender and several thousand dollars in resultant medical bills).
This month, I've got two items to recommend, though I do so with slight reservations.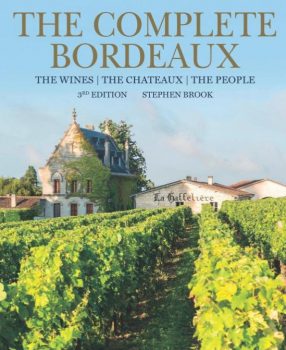 First up, there's the recently-released 3rd Edition of The Complete Bordeaux: The Wines, The Chateaux, The People (Mitchell Beazley, $75) by the venerable Brit Stephen Brook. Brook (with whom I've judged in wine competitions) has thirty-five years of writing experience – and about the same number of published books – to his credit, and if one reads carefully through The Complete Bordeaux, one will be able to tell that he is a master of the English language. At first, his writing style might seem downright reticent; it's certainly restrained. But as the paragraphs unfold in pages of the detailed profiles of pretty much anything that is of vinous significance in Bordeaux, you come away with the sense that Brook has mastered his subject, and is presenting it in the most concisely efficient prose possible. It helps that he has coverage of the topic that is both wide and deep; Brook has tasted back vintages of just about every Bordeaux house that has ever mattered.
If The Complete Bordeaux suffers from anything, it's a relative lack of photographs and detailed maps for a tome of this size (over 700 pages) and price. It also suffers from a wine market in which Bordeaux has arguably never been less relevant, at least when it comes to a now-prevalent younger generation of drinkers. That's hardly Brook's fault, of course; so if you're a Bordeaux lover, this is as comprehensive and as valuable a reference as you are likely to find…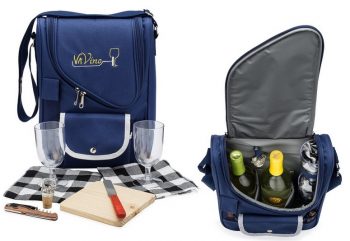 There's one more item in the cross-hairs this month: the VaVino Wine and Cheese Picnic Set Bag (about $57). The VaVino functions as a one-stop-shop for portable wine-and-cheese outings. It contains a durable little wooden cheese board; a decent wine bottle stopper; a middling-quality waiter's friend style corkscrew and cheese knife; two small, rigid plastic wine glasses; two cloth napkins; and a shoulder-strapped insulated bag (with Velcro'd dividers), for when you eventually add the wine and cheese part.
In the unlikely event that you don't own any of the above already, then the price point isn't unreasonable, given how well the insulated bag works; based on my experience, that thing will keep items (very) cool in very (very!) warm/muggy weather for a good long while. So while it's certainly sporting its share of kitsch, the VaVino bag will definitely function as a nice option for taking wine on the go and keeping it in good drinking form on warmer days, provided that you leave enough room for a small ice pack (you lushes!).
Cheers!