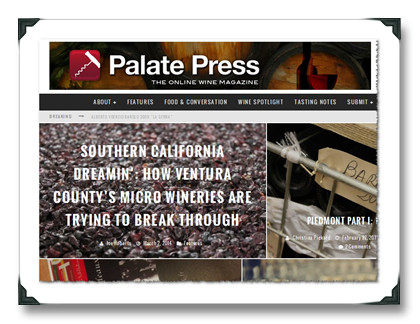 "Stay out of Malibu, deadbeat!!!"
As a stunning display just how behind I am on everything, my take on the upstart, bootstrapping wineries of Southern California's Ventura County was recently published over at PalatePress.com.
Yeah, that's the one I talked about back in January when we featured the recent releases of Ventura's Four Brix Winery (and that was written about six months after my visit). Whatever, look, I'm kind of busy lately, alright?
Thus endeth the triumvirate of articles I'd planned resulting from that S. Cal. jaunt, the remaining third being an overview of the wineries in the Ventura County wine trail for Wine.Answers.com. Mini-reviews might peek out here and there, though, to further highlight a few of my faves from the trip. Otherwise, it's on to all of the other shizz on which I'm similarly several months behind.
The PalatePress.com piece continues a theme of sorts on which I've focused in my features over there: talking about off-the-beaten-wine-path vino areas about which almost no else is talking, and certainly mainstream media has been touching with a ten foot punch down pole, such as Ventura, Colorado, and Pennsylvania (incidentally, I'll likely be sticking to that theme for future PP pieces, since whenever I veer from that and talk about ultra-expensive wines, or whether or not critical acclaim matters for wines that are so popular that they've created enduring brands, I create a veritable sh*t storm and get into all kinds of trouble… see, and you thought that only happened here on 1WD!).
But it (the article, I mean, which technically is still the subject, despite the ludicrously long sentence above) also explores the idea of whether or not Northern California's vineyards exhibit terroir, and if so whether or not that individuality and vinous fingerprinting can be interpreted and displayed by bootstrapping upstarts buying the region's grapes, just as the better producers on the Ventura County trail are attempting right now. I'm not yet convinced that they've fully achieved it, but the experiment is still in progress, and of course gives us geeky fodder about which to conjecture (is that a verb?… if not, it should be)…
Cheers!