California sparkling wine has come a long way (baby) since German draft-dodger and later NYC barber Jacob Schram decided that the hot and sunny knolls of Calistoga in the 1860s looked like a suitable place to plant vines like those he'd left behind in his beloved Rhineland (after all, he'd seen hills far steeper – and a lot more difficult to farm – back in Germany).
Schram wasn't making bubbly back then – that Calistoga climate barely managed the mostly German varietal still wines that he produced there, so much so that he hired Chinese laborers, fresh off work on the railway lines, to dig the site's now-famous hillside caves in order to protect his wines from the heat (pickaxe marks are still clearly blazoned into the walls). So, Schram would probably be as surprised as anyone by the success that his namesake – Schramsberg – has had in the domestic sparklers department (though Schram was no slouch – by the time of his death due to complications from paralysis in 1905, his winemaking venture was quite successful, and he'd counted among his friends people like Robert Louis Stevenson).
Schram's son Herman wasn't so lucky; lacking his father's passion for the business, he couldn't overcome the double-fisted body-blows of phylloxera and Prohibition, and tax records form the time suggest that the winemaking family business stumbled mightily by the time it was sold in 1912.
That Schramsberg could again be firing on all winemaking cylinders 150 years later probably seemed just as unlikely in Shcram's time as any California sparkling wine being able to stand toe-to-toe with some of the best that Champagne has to offer in our time; yet (based on my recent visit this past June), both are clearly happening at this Calistoga hamlet…
Schramsberg's estate house was in serious disrepair when it found its way into its current ownership under the Davies family in 1965: the now-iconic frog pond (which does contain frogs, by the way, and large ones at that) was then a swimming pool, the property's building nursed broken windows and havens for local bats. Jack and Jamie Davies saw Napa as a saturated market for still wines… at a mere twenty-two wineries at the time. And so they decided that a good niche would be high-end sparkling wine.
In 1972, they were proved prescient (and/or lucky) when Barbara Walters held up a bottle of their Blanc de Blancs on national tv – it having been chosen by then-president Richard Nixon for his "Toast to Peace" with China's Premier Zhou Enlai. Schramsberg was on the map, with their wines being used at official functions by every U.S. presidential administration since. Their fruit is now sourced from diverse sources better suited to producing the Pinot Noir and Chardonnay grapes needed for high-end sparklers, with long-term vineyard contracts in areas such as Anderson Valley, Sonoma Coast, Marin County, Carneros, and Petaluma.
Son Hugh Davies has had the reins since 2005, but nearly ended as badly as the transition from Jacob to Herman. In 2008, Schramsberg entered the the ring of ugly public controversy when middle brother John Davies cried foul in 2008 that eldest son Bill was skipped over by his mother, whom he claimed was mentally-unstable and had cheated the company's minority shareholders.
Not surprisingly, not a word about the family feud, or the name of John Davies, was uttered when I tasted through Schramsberg's current releases in their caves with their friendly and soft-spoken PR & Marketing Manager Matthew Levy. If the controversy inspired Hugh to focus on producing better and better wines, then maybe something good came out of the family mess; I've not found one Schramsberg bubbly that wasn't at least very good, and in some cases tasted sparklers completely on par with vintage Champagne.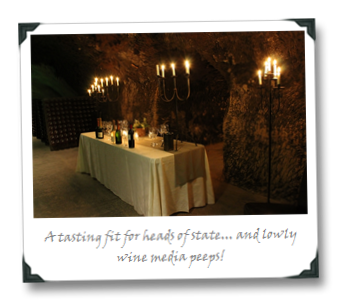 It's worth noting at this point that no Schramsberg bubbly would be mistaken for vintage Champers. Both (and I'm generalizing pretty broadly here, but stick with me because this is important) often carry crisp, heady and fresh apple aromas, yeasty brioche characters, finely-tuned effervescence and the ability to improve over several years in the bottle. Where CA and Champagne bubblies branch separately from a similar trunk (not unlike brothers in a family tree, ironically) is that where Champagne lends itself to an intricacy of intense floral, herbal aromas and minerals, the best California bubbly instead offers its complexity in additional layers of gorgeous, generous apple, tropical and berry fruits.
The point is that California and Champagne bubblies are stylistically different, a choice dictated by the best fruit that can be produced in their respective soils and climates. In the better cases, these are wines that are not different in terms of quality – and you've got my permission to give a Chuck Norris style roundhouse kick to the face to anyone who tells you that Champagne is inherently superior to the best domestic sparkling wines (make sure you're lawyered up and have proper insurance before attempting this… also, don't mention that I gave you permission…).
If I'd ever doubted the merits of CA sparklers before, those doubts were summarily carried away on the wafts of popping CO2 bubbles during my tasting at Schramsberg:

2009 Schramsberg Blanc de Blancs Brut (North Coast)
Price: $37
Rating: B+
Heady, crisp & more refreshing than the other side of the pillow on a hot night. This has become a sort of "house wine" for me, with notes of lemons, apples, nuts, and baked bread; it's clean, with mouth-watering acidity and more minerality than you'd expect from the Left Coast at this price, and an elegant introduction into what California bubbly is capable of delivering when done right.

2005 J. Schram (North Coast)
Price: $110
Rating: A
What toasted nuts, apples & cherries might be like if served in the Elysian Fields. Mostly Chardonnay (with 15% Pinot Noir), five and a half years of yeast contact has given this wine an incredible, toasty, nutty and brioche-filled nose. There are citrus fruits in spades here, as well as apples and a hint of cherry. It feels young, vibrant and seductive, all due to a great mouthfeel tension between pithy acidity and creamy yeastiness. When I talk about domestic bubbly potentially being just as good (but fruitier instead of floral) than vintage Champers, this wine is what I had in my mind's (and palate's) eye.

2001 Schramsberg 150th Anniversary Late Disgorged Blanc de Blancs (North Coast)
Price: $90
Rating: A-
10 years on the lees mark Schramsberg's anniversary release, and it is time well-spent. Aromas of toasted nuts, golden apples & a pronounced yeasty brioche quality combine with a palate that's at turns abundantly stone-fruity and vibrant, and resolve into a finish that you might remember for almost as long as this stuff spent on its yeasts. According to Levy, it will be available going forward in only large format bottles: "1.5L is slated to be $225, while the 3-L will be $475 per bottle. These large format versions will be released in the fall." I imagine that those will age beautifully, so might be worth saving up for if you're a fan of the LD style (for more on how good their LDs can be given further time to develop, check out what I had to say about Shramberg's LD Priemere Napa Valley lot earlier this year).

2008 Schramsberg Blanc de Noirs (North Coast)
Price: $39
Rating: B+
Fruity, pithy, & stare-down-from-a-world-poker-championship-contestant levels of intensity and focused. Those who like their bubblies intense and more on the red-berries-and-cherries side than the apples-and-citrus side will find a lot to like in this solid release.

2004 Schramsberg Reserve (North Coast)
Price: $110
Rating: A
Royal weddings often don't end as elegantly as this pithy, smokey, heady & characterful bubbly. 84% Pinot Noir, six years on the lees, and showing all of it brilliantly, there is nearly an entire bakery of yeasty notes here. Bread roll, brioche and nutty characters dominate at first, then move to aromas of apples, dark cherries and smoke. the mouthfeel is a deft balancing act between pithy elegance and lingering fruity verve.
Cheers!