Premiere Napa Valley – the annual auction event in which Napa Valley Vintners members create small-quantity, one-of-a-kind wine lots that are then bid on by wine industry/retailer types – is, basically, a total zoo.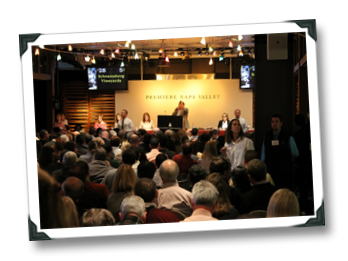 And I love that it's a zoo. It's my kind of wine geek's zoo: equal parts social event, fund-raiser, total chaos, and killer (but often big, thick, dense, tannic) juice. As I have for the past few years, I spent the last Saturday in February at the Culinary Institute of America in St. Helena, tasting some of the NVV's ultra-premium wares and watching the subsequent auction action (which becomes SRO rather quickly in the CIA's top-floor conference area).
PNV is viewed as a bit of a bellwether for the U.S. fine wine biz's economic outlook in general. I've seen it in lean years, when the parties are subdued and the auction results are pleasantly surprising when they're decent. And I've seen it in years like 2012, when the parties were packed and everyone's hopes were higher than the abv % in most of the Valley's biggest Cab blends.
If PNV is a true wine biz litmus test, then the high-end of the market should feel pretty good, because the auction raked in $3.1M this year – a 31% increase over last year's record take-away. The top lots went courtesy of Dana Estates, Kapcsandy, Ovid, Checkerboard Vineyards, Vine Hill Ranch, Joseph Phelps, Amuse Bouche, Duckhorn, Silver Oak, Levy and McClellan, and Shafer. And no, those were NOT necessarily my personal faves from the event, but I'm not bidding on any PNV lots so what the hell do I know. You can see who paid what for what by visiting www.premierenapawines.com (you know, in case you're in the mood for spending $1000 on a bottle of Napa juice).
So… PNV's results suggest sunny days ahead for the fine wine market, but how were the wines themselves? In short: big (but not always!), oaky (but pretty well balanced), tannic as all get-out (but not exclusively) and for the most part really friggin' good. In fact, one of them may have been the best PNV wine I've ever had (and one of the greatest CA wines I've ever tried)…
Following are a few highlights from my tasting notes on these (very) rare PNV12 wines. Don't expect to see them on offer at Costco, but if you're jonesin' for best-of-the-best from The Valley then it might be worth seeking some of these beauties out via their winning bidders (or even checking out the producers' other, less-rare wares).
This is really the only time each year that I go into "tasting notes list" mode, forgoing the "normal" process of features and badges, because you probably weren't there and so it's kind of fun for me to be able to try to relate to you how I thought the wines fared (bear in mind I do NOT try to taste all of the PNV lots, for the sake of my sanity, my health, and my teeth!).
In the A+ range:
Schramsberg 1996 J. Schram Late Disgorged Sparkling Wine: Yes, there was actually a wine at PNV12 that warranted the elusive "A+" rating, because it completely redefined a category for me – that category being domestic U.S. sparkler. This bubbly is five cases of about-as-close-to-perfection-as-you-get-without-being-a-deity. Red, yellow, green apples of varying ripeness and textures, an entire field of white flowers, a Planter's can full of nuts and more bread aromas than you'd find during a stroll down a German baker's row at 6AM. Incredible juice. The winning bid went to Beverage Warehouse in L.A., proving that there are at least some people in L.A. who know what the hell they're doing when it comes to wine. A+
What, you want another A+ wine? Sorry, that's the only one, folks – this isn't the Wine Advocate talking about 2009 Bordeaux, here!
In the A range:
Coho 2010 Michael Black Vineyard Merlot: One of the best and most poised NV Merlots I've had in a long time (and that includes the PNV Merlot vintage perspective tasting that took place the day before… more on that next week… stay tuned). Chocolaty, plummy, spicy, full of plump and vanilla but also dried herbs and tea as well. Spectacular stuff. A
Continuum Estate 2010 Red: Structurally brilliant, big but with pretty much nothing missing, this should get Continuum fans salivating because the fruit is 100% from Tim Mondavi's Pritchard Hill estate and so is a glimpse into what Continuum will soon be in its regular estate bottling. A
Corison 2010 Premiere Reserve Cabernet Sauvignon: Cathy Corison makes the most elegant Cab juice on Route 29. No big surprise then that this floral, powerful, balanced and lovely PNV lot came from her hands. Should wow in 7+ years. A
Cornerstone Cellars "The Premiere Cornerstone" 2010 Cabernet Sauvignon: Might be the single best Cornerstone wine that Jeff Keene has ever made; chocolate, chalk, and a mid-palate to die for. A
Inglenook "Niebaum Selection" 2010 Rutherford Cabernet Sauvignon: Chocolate (sensing a theme here, people?), black fruits, and tangy, vibrant backbone that screams out how alive this wine is. Incredible balance as well. A
Kapcsandy Family Winery 2010 Yountville Cabernet Sauvignon: Smoky, meaty, huge, intense and finishing with a ton of pretty berry compote. Complex, silky, textural and eminently lovable. A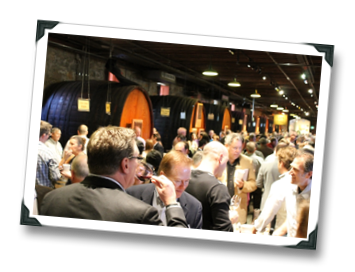 In the A- range:
Casa Nuestra "Oakville Farmhouse Historic Blend": Wow. These folks have some gumption, offering up an old vine field blend in the House Of Cab. They found out just before PNV that this wine is about 40% Negrette, with a hefty amount of Zin and Carignan as well. Intense and peppery. with crazy good structure, this one of the most unique lots at PNV (and likely one of the most interesting red wines you'd ever taste – for more of its back story, check out my PNV 2011 coverage). A-
Dana Estates 2010 Cabernet Sauvignon: Dana's first PNV lot is a stunner; killer florals, lots of exotic spices, blackberry and graphite notes to bring it all home. A-
Gemstone 2010 Yountville Estate Cabernet Sauvignon: Credit where it's due – their high-end bottlings might often be too inky, boozy and thick, but Gemstone teased out a fairly well-balanced, black-fruited beauty for this PNV, with graphite overtones and good structure. A-
Hourglass "Five Element Theory" 2010 Cabernet Sauvignon: What you'd expect from Robert Foley – opulent, ripe, but ultimately balanced, structured and just really damn good. A-
Ladera "Two Mountains" 2010 Cabernet Sauvignon: Blended from fruit from both the Mayacamas and Howell mountains, and a preview of a new high-end "S" line offering that will be available soon. Black and blue berry compote, violets and a focused, svelte mouthfeel. A-
Mt. Brave 2010 Mount Veeder Cabernet Sauvignon: Chris Carpenter's newest project is off to a great start. Tangy, floral and feminine but still deep and brooding… wow. A-
Mount Veeder "Slope 30" 2010 Cabernet Sauvignon: Surprise, this one from Janet Myers isn't floral but instead is dark, tangy, intense and loaded with bay leaf, tea, and rocky minerals. A-
Oakville East Exposure "The Sun and The Moon" 2010 Cabernet Sauvignon: What it lacks in spiciness it more than makes up for in intense concentration, florals, and pit-jumping-site deeeeeep structure. Will take decades to come around. A-
Parallel Wines 2010 "Fortune Teller" Cabernet Sauvignon: Silky with a ton of blueberry, I was shocked to find that this was sporting 15.5% abv, which I suppose is a minor tribute to how balanced it is. A-
Poetry "Dream Hill" Stags Leap District: A blend from two different Poetry vineyard estate lots of new-ish vines, this is tobacco central, with crazy amounts of spice and cassis, and a tinge of leather and violets (you can read more on Poetry's non-PNV Cab here). A-
Shafer 2010 Sunspot Vineyard Stags Leap Cabernet Sauvignon: Blue, black and beautiful. The tension between the roundness of this wine and its deep structure is really compelling. A-
Terra Valentine "The Crown Jewel" 2010 Cabernet Sauvignon: Sam Baxter has a ton of talent, as this structured, meaty, earthy and mineral-driven Cab makes perfectly clear. A-
Trefethen Oak knoll District 2010 Cabernet Sauvignon: Big, full of blueberry and violets and a splash of Petite Verdot that really enlivens the wine and gives it a hefty palate grip. Zeke Neeley is really kicking ass and taking names at this point. A-
Twomey Cellars "SoCaRaNa" 2010 Merlot: Black olives, and a round, plush, velvety texture. It has tangy red fruits and is fresh, reserved and poised. A-
And finally… In the B+ Range:
Cheers!