So much turkey talk when it comes to wine this time of year, and yet so little talk of the turkey.
What I mean is, for all of the holiday wine pairing help that we can find this time of year, very little of it actually centers around The Bird. The culinary hub & spoke in the wheel of our holiday meals, so-to-speak.
Which is understandable, because the turkey, while usually sitting at the center of our holiday table and taking up the majority of our cooking prep. time, is actually the side show when it comes to most Thanksgiving meals.
The real stars of the act, in wine pairing terms, are the varied side dishes that run the gamut of tastes from savory to sweet, along with the varying taste preferences of the dinner guests. In other words, when it comes to holiday meals you should drink whatever wine you like, because the situation (when it comes to finding an all-purpose wine pairing, that is) is pretty much hopeless (it may also be hopeless because of the company, but that's your problem).
But… what is a culinary adventurer to do when the slow-roasted bird is actually the focus of a meal? I'm talking about a chicken or turkey spending almost all day slow-roasting to perfection, to be accompanied not by show-stealing sweet yams but by less robust side-item fare meant to place the dining spotlight on the bird itself.
What do we pair with that?
The answer (at least, my answer) might surprise you…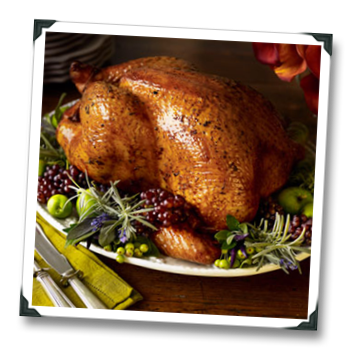 My answer? The bigger the better.
Slow-roasting imbues almost any meat with a massive injection of flavor and mouthfeel; it gives even birdie white-meat a sense of serious heft. In culinary terms, we like to call this weight – not what the bird puts on in pounds (or puts on us in pounds!), but the feel of the texture and flavors in our mouths.
The heftier the culinary weight, the 'bigger' the wine that you can serve – even if it's white meat chicken or turkey.
One of my favorite match-ups: slow-roasted chicken and young Barolo.
No, I'm serious – it totally works. The slower the cooking / roasting, the more robust the possible wine pairing. Try it out – you might get some strange looks from restaurant-goers (or staff), but you won't care when you achieve wine-pairing mouthgasm.
Got a 'mouthgasm'-worthy slow-cookin' wine pairing?  Shout 'em out in the comments!
Cheers – and have a safe holiday!
(images: goodhousekeeping.com)