Today, I could be writing any number of travel-related wine pieces from the large number of jaunts I took in the first three quarters of 2012 (how large is that number? let's just say I've had to visit the doctor to treat complications from my ass having spent so much time sitting in airplane seats).
But I'm not going to do that. Not today. Those stories can wait.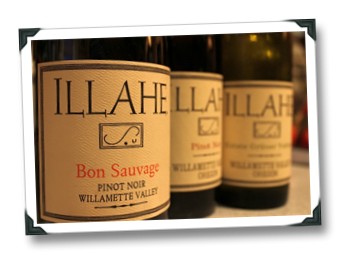 Instead, I'm going to put my money where my mouth is, and give some long-overdue attention back to a long-time friend of 1WD. Of course, if his wine sucked he wouldn't be getting the attention here; but it doesn't, so he will.
Gabe Jagle is a long-time commenter on these virtual pages, often adding insightful points and taking the conversation in the comments field into fascinating wine geek territory, areas that we might not otherwise have explored even on posts that see dozens of interesting comments. Gabe doesn't just do that here – he also does it on several other wine blogs, and he generally seems to enjoy the geeky discourse. In fact, he's prolific enough and so imbued with the power wine-geeky that it was several months in to our blogger/commenter relationship before I even knew that he was an assistant winemaker to Brad Ford at a small Oregon producer, Illahe Vineyards in the Willamette Valley.
That genuine love for the grape and for its discourse is what lead me to finally meet Gabe in "real" life earlier this year, after the 2012 Wine Bloggers Conference in Portland. Gabe is a likeable guy, mild-mannered and with a lanky appearance that to city-slickers like me just screams "Pacific NW Farmer" – kind of Shaggy meets lumberjack (he's probably going to hate that, but it's the best I could come up with between writing interruptions from my toddler daughter).
I was interested enough in Illahe's wines after tasting one of the Pinots during my Portland visit that Gabe and I loosely agreed to try to get me samples, which arrived recently. And while they're not going to set any concentration-loving palates on their ears, those Illahe wines are in possession of a quality that seems to come along rarely in wines these days: authenticity…
Gabe is fond of commenting here (and elsewhere) that he views one of the key benefits of the better wine blogs as being their ability to expose interesting producers and wines to the public; or, put another way, telling stories about wines that deserve to have their stories told, but otherwise might never be told by traditional wine media.
We've seen a good number of those stories here. Matthiasson, now the darlings of many well-regarded critics, is one of those stories. Portuguese producer Quevedo is one of those stories. I think Illahe is another.
It's not that all of the wines Gabe sent me were profound; they weren't. But they were delicious, and they were distinctive, and I got the sense that was what Illahe was shooting for with their wines. And you've got to love the honest, no-nonsense winemaking approach; the back label of the 2010 Illahe Pinot Noir reads
"Hand picked, small lot, horse drawn, basket pressed, barrel aged"
The horse drawn part is, as my daughter likes to say, "for real!": Illahe uses Percheron drafts – named Doc and Bea – to mow cover crop on the property and for transporting grapes from the vineyard to the winery during harvest. What impact that has on the wine I don't know, but it's probably one less gas tank in operation which likely can't hurt when it comes to the local environment.
Illahe Owner Lowell Ford cut his winegrowing teeth in the 1980s with an acre of müller-thurgau, selling grapes to the likes of Eyrie before buying a an 80-acre pasture in 1999 that would eventually become Illahe's estate vineyard. It was in 1983 that Lowell planted eight Grüner Veltliner vines in his backyard, from which he made bottlings of GV wines for about twenty years until finally planting 1.5 acres of it at Illahe. The 2011 Illahe Grüner Veltliner ($15) is an intellectually stimulating wine. A very cold vintage (one of the coldest on record for Willamette Valley) pushed the harvest into November and resulted in a wine that clocks in at under 12% abv, but it it doesn't lack for lime-like zing, pithiness, or minerality (though it does lack for spiciness). There are melon undertones, but it's the vibrancy rather than the fruitiness that makes the wine compelling.
Illahe has a lineup of Pinot Noirs (as you'd expect from Willamette… dammit…), of which Gabe sent me two. The first was the simpler of the two, the 2010 Illahe Pinot Noir ($20), which head winemaker Brad Ford describes as "wine that my neighbors can drink." I found it pretty sturdy for an "entry-level" Pinot; there's a good deal of tannic development here, with grit and smoke and and earth and leather combining with spices, bright red berries and an overall light body.
It was with the second Pinot that things really got interesting, though…

2010 Illahe Bon Sauvage Pinot Noir (Willamette Valley)
Price: $26 (if you can find it – only 85 cases were made)
Rating: B+
Interestingly, the only thing accounting for the Bon Sauvage's additional complexity over the 2010 Illahe Pinot Noir (they're sourced from the same site) is the 100% native yeast fermentation treatment. A lot of words could be used to describe this Pinot , but "authentic" and "honest" are the two that most came to mind for me when I tasted it. There are signature OR elements here, like earth and truffle notes, but it could be a Catholic altar boy with all the incense aromas it's carrying around. There's a great juxtaposition of contrasting elements, too; dark berry fruit with a light touch; thickness of structure with vivacity. In other words, this is Pinot for Pinot's sake. This is Pinot that won't be mistaken for Syrah. This is Pinot that wears its heritage and its parentage on its sleeve. Fans of forest floor Pinot will love it, fruit-bombers will not, but those with more catholic (little "c" this time!) tastes can probably enjoy this as a nice break from the proliferation of weighty West Coast Pinot Noir out there right now.
Cheers!