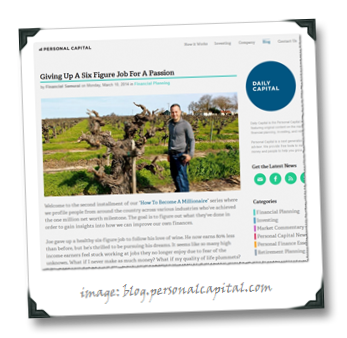 Picture this: It's a gorgeous and sunny day in South Africa, and I've just finished giving the keynote address at the 2013 Nederburg Wine Auction. I'm drinking Cape bubbly and grazing for food, and mingling with interesting people from all over the Southern Hemisphere. Of course, I'm exchanging business cards with all of these folks – winemakers, media, buyers. Then the inevitable question comes (after the equally inevitable oohing and ahhing over my way-cool tiny moo.com business cards, I mean):
Them: "So… what do you do? In 'real life,' I mean? "

Me: "You're looking at it!"
I have to accept this as inevitable and totally understandable, since so few people can actually make any money whatsoever independently in the wine biz. How are you able to ditch your IT career? …
The exchanges are predictable, not because the question is dumb (far from it), but because the question is so pervasive. I get asked a variant of this question literally during every event and during every trip. Not some events or trips; every event or trip. Now, for those of you who aren't trying to claw a living out of the wine world, the question might seem odd, so take this joke by my friend and Master Sommelier Catherine Fallis which adds the necessary perspective, and sums up the wine media struggle nicely:
Q: What's the difference between a wine writer and a large cheese pizza?

A: The large cheese pizza can actually feed a family of four for one night!
It's funny, but in a stinging, Dilbert-strip, this-really-is-my-life-OUCH! kind of way. And so I understand why the question gets asked. I haven't ever really answered it, though, until now.
I recently gave what has turned out to be the single most intimate interview of my life to Daily Capital, the blog of the popular financial app and service Personal Capital (its author blogs independently at a great personal finance site called Financial Samurai). That interview basically clears up how I've been able to pursue wine media full time (and still help to support a family without having to feed them cat food), but I've never talked about it in detail before because it wasn't strictly wine-related, and it was a topic that was just too… well… personal.
So, now that the interview has been published this week, the answer is out there. We can now return to our normal sophomoric soliloquising about vino…
Cheers!