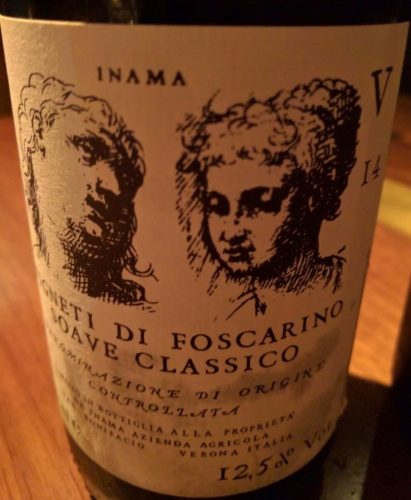 What do you do at harvest time if you are part of a family wine business, but are highly allergic to pollen?
If you're Alessio Inama, son of Azienda Agricola Inama's Stefano Inama, you hoof it to the major wine markets, and take media types like me out to dinner so that we can taste your wines. Which is how I got to meet Alessio at Philly's excellent Fishtown-area haunt Root last week.
Alessio describes his father as "a crazy man," and certainly he has a rep in the wine world for possessing the quintessentially Italian trait of bucking convention (which is second only to the quintessentially Italian trait of adhering almost blindly to tradition). This is fortunate for anyone who loves eclectic northern Italian white wines, as Inama is now well-known as producing the thinking person's Soave. Alessio quoted his father as saying "the first step to making a great wine… is to fire the accountant." It's hard not to like such a character (unless you're his accountant). Especially when he also makes Carmenere (more on that in a minute).
Back in the 70s, Soave had its heyday, being one of the most recognizable Italian wine regions, if not its most famous white wine regional brand. As in all such things, insipidness and market hangover ensued, and by the 1990s Soave wasn't much considered as the world turned to Pinot Grigio and Chardonnay (though Soave remained popular in its home country). It was during the heyday in the`70s that Alessio's grandfather, Giuseppe, began buying up small, lava basalt hillside lots in the Soave Classico region (today they own about 30 hectares).
Today, Soave is a bit of a bell curve. At one end, you have insipid, forgettable quaffers; in the middle, a large production of capable, often very good, almost always refreshing sippers best enjoyed in the warmest months; on the tail end, a small number of producers who push the region's Garganega grape to its physiological – and philosophical -limits…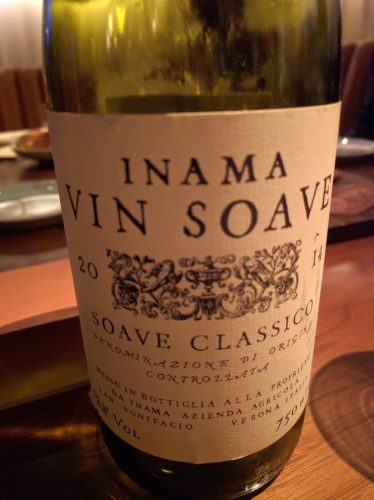 2014 Inama Vin Soave Classico (Veneto, $15)
The white wine formula at Inama has developed over the years to incorporate controlled ancient techniques: short skin macerations, natural browning of the musts, maturation in used (2-5 year old) barriques for some of the wines, and a few months of lees contact.  In this case, maturation is in stainless steel, and the result is a very serious Soave (textural, ageworthy – I've had vintages with 2-3 years on them that were still in excellent shape) that's letting its hair down (floral, mineral, nutty, and refreshing). This is as straightforward and accessible as Inama gets, and you get a lot of complexity for the cash.

2014 Inama Vigneti di Foscarino Soave Classico (Veneto, $25)
Used barriques do come into play here, aging wine made from pergola-trained Garganega vineyards on the eastern side of Monte Foscarino. This happens to be my personal fave of the Inama lineup; camomile, citrus, almonds… the wine is a delight, with Luke's-green-lightsaber-quality laser focus on the palate.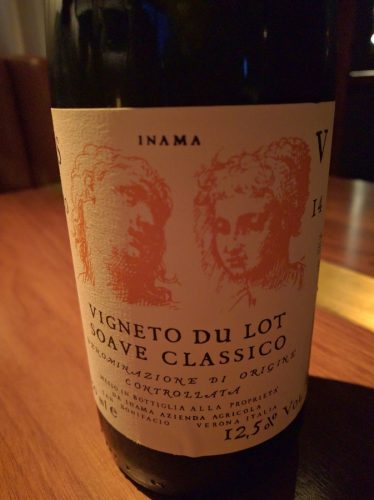 2014 Inama Vigneto du Lot Soave Classico (Veneto, $30)
This is Soave with its balls out. A single vineyard offering that sees fermentation in 30% new French oak. This starts to get into "what am I drinking… is this Burgundy? Fiano?" territory, but every region needs someone to kick it in the ass. The label (which changes color every year) depicts the two facets of wine: drunkenness and contemplation, both of which you are likely to encounter when imbibing this beauty. Floral, toasty, creamy, with a long finish of sweet and bitter almond, vanilla, and citrus and stone fruits.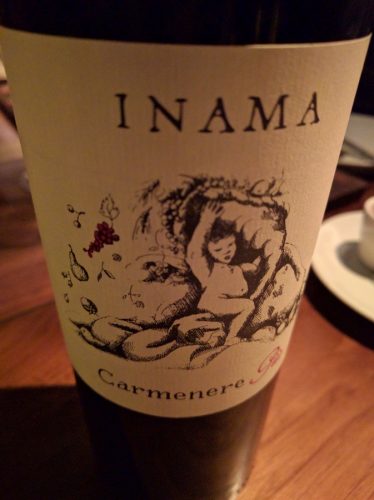 2013 Inama Carménère Più Veneto Rosso (Veneto, $19)
To the south-east of Soave Classico sits the Colli Berici, a stark contrast in soils to its white-wine-region cousin; the spot is dominated by red silt/clay on a calcareous ridge. Little wonder that Bordeaux red grapes were planted there, including Cabernet Franc, Cabernet Sauvignon, Merlot, and Carménère. Interestingly, this is yet another spot in the world where Carménère grew but everyone thought that it was something else (in this case, Cab Franc). As it turns out, Carménère seems to do quite well in Berici, where the vines are now over forty years old. The Più (or plus) in this case is the addition of 30% Merlot, which ads some body, black olive notes, and tart red fruit flavors to the mix. There's a lot of pleasant structure here, buoyant acidity, and dark berry flavors, too, with almost no hints of bell pepper to be found. All in all, very hard to put down.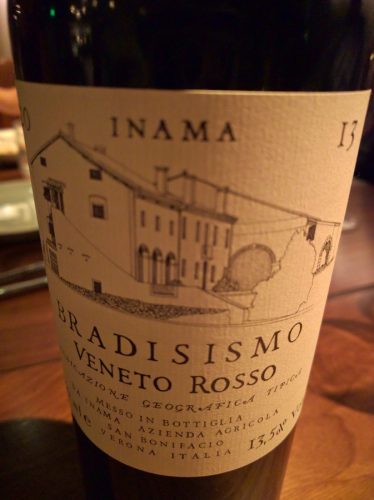 2013 Inama Bradisismo Rosso (Veneto, $30)
The title refers to the seismic activity that generated the region's hills, and it sounds a whole lot sexier in Italian than it does in English. A 70% Cabernet Sauvignon / 30% Carménère blend, to me this seemed the most modernly themed of Inama's lineup. You will recognize the Cab in the plummy fruits and dried herb notes of this "Super-Venetian" right away, but the Carm adds complexity by way of dried dark cherries and chocolate. It's a smooth operator, for sure; recommended for when you are trying to get some of your own seismic moves on…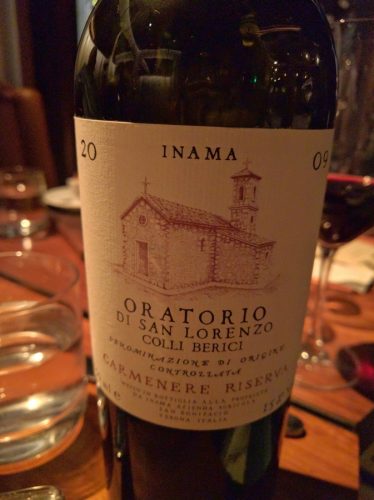 2009 Inama 'Oratorio di San Lorenzo' Colli Berici Carmenere Riserva (Veneto $70)
Alessio described drinking this wine now as "infanticide," and I'm inclined to agree with him, based on the intense structure of this 100% Carménère from the Veneto (talk about a hand-sell if there ever was one…). Inama were swinging for the fences on everything here: acidity, alcohol, flavor, tannins, texture, body, and presence. By and large, they did hit a home run here; it's deep, persistent, powerful, and complex, with soy, cocoa, dark fruits, and pepper. None of it is integrated yet, but in about four years or so all of this should be meshing together rather nicely.
Cheers!