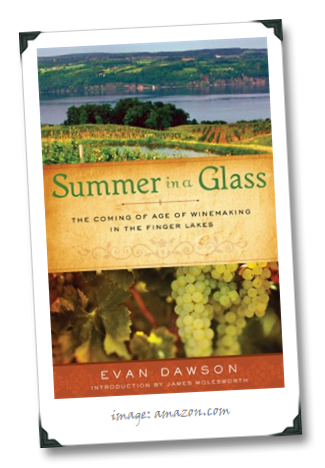 Today, a quick-hit to tell you that my friend Evan Dawson's recently-released book Summer in a Glass: The Coming of Age of Winemaking in the Finger Lakes just took home the award for "International Wine Book of the Year"at the 2012 Louis Roederer Wine Writing Awards.
I am personally thrilled for Evan, who is having a banner year in 2012 as he kicks ass and takes names across the wine writing spectrum. Evan is the kind of writer whose works make the rest of the on-line wine media world look good.
I'd offer you more thoughts on Evan's first printed work, but as I'm quoted in it and am clearly biased all I can tell you is that it's a decidedly well-written humanist take on the stories behind the Finger Lakes wine region. For more non-review thoughts on the book, check out my, well, non-review from a little over a year ago.
Congrats to Evan on such a well-deserved win – my friend, you're making us proud!
Cheers!