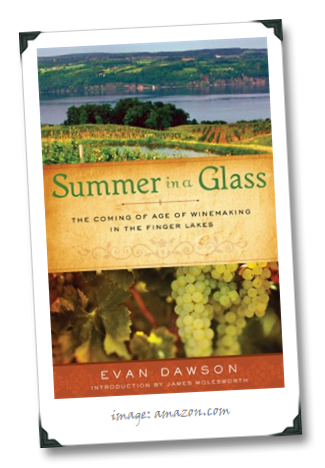 Before I offer my thoughts on Evan Dawson's recently-released Summer in a Glass: The Coming of Age of Winemaking in the Finger Lakes, I need to make sure that you thoroughly understand that this is NOT a book review.
It's not really a book review because as a personal friend of Evan, and a fan of his writing in general, and a member of the Palate Press ad network (which is currently running ads for Summer in a Glass, some of which appear right here on this site), I am very likely incapable of producing an unbiased review of his first book.
In fact, I'm quoted in the book as well, and, now that I think about it, about the only way I could be more firmly lodged like a NYC prostitute onto the tip of this book would be if I were somehow receiving a percentage of the advance (I'm not).  So let's just say that when I tell you that Summer in a Glass is not really a wine book, but is a humanist take on a local industry finally finding its mature footing, and just happens to be set in a wine region – and that it's a total joy to read – I'm at least being subconsciously influenced into seeing the more positive gleams from the sheen coming off of its glossy cover.
What I can tell you without appearing like a total shill is that Summer in a Glass seems to be hitting the shelves at exactly the right time.  I've written in the not-so-distant past that the NY Finger Lakes wine region seems to have hit its best stride ever in recent years, with the levels of experience, industry camaraderie and wine quality all headed up a steep curve simultaneously.  If you want to settle into your fave reading chair with a book like Evan's, there's never been a better time than now to pour yourself a glass of Finger Lakes wine to accompany it – and that is NOT just Riesling, mind you; I include Finger Lakes reds in that group, as they are producing increasing amounts of high-quality reds like Cabernet Franc and Pinot Noir (let's not forget that the 2008 Red Tail Ridge Pinot Noir made my list of 2010 Top 10 Most Interesting Wines, people)…
The Finger Lakes also continue to work the David-vs.-Goliath angle in the wine biz, and for the last few years have managed to successfully parlay that stance into an underdog-to-cheer-for status without beating wine consumers over the head about it.  This probably makes some of the better producers in the region the sentimental favorites of wine geeks across the U.S., and the beautiful scenery of the area isn't hurting them, either.
Is bad wine still being made in the Finger Lakes?  Of course it is – some of it is textbook flawed, as in could-use-it-in-a-wine-cert-faults-tasting bad.  BUT…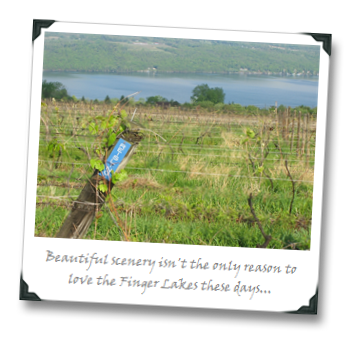 I'm sure some of you out there will disagree with me, and still more could (rightly) point out that Finger Lakes wines remain too pricey – especially in the Riesling department (and most especially when compared to some of their more floral and elegant Germanic counterparts in those similar price ranges); however, I'd argue blue-faced-style that the region is pumping out its best wine ever, with an increasing percentage of it becoming world-class.
Anyway – hat's off to my friend Evan for his accomplishment, and hat's off to the Finger Lakes wine producers for hitting their stride and reaching the point where a passionate book like Evan's could be viably written about them.
Cheers!
p.s. – On a similar (shil-lish) book note, a recent release to which I contributed a few short (no height jokes, please!) pages – titled "Every Wine Tells A Story" – is now available for order on Amazon.com and so I'd like to give the editor (London-based sommelier and consultant Tara Devon O'Leary) a hand for getting Amazon to pick it up and encourage you to take a look at it as well.