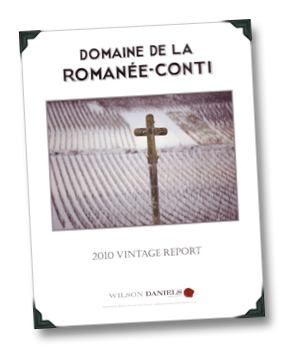 I'm interrupting all of the planned 1WD content to cave in and give you the low down on the 2010 Domaine de la Romanée-Conti event held at NYC's A Voce Columbus earlier in March this year, to which I was invited (as just about any of you following my twitter feed already know).
I won't be telling you the quirky about the that will appear, at some point in the near future, in all of its quirky… quirkiness in my Playboy.com Wined Down column. What I will tell you about is the stuff that didn't make it into that piece: the geeky 2010 vintage details from Aubert de Villaine, and my expanded thoughts on each of the releases. You'll have to go to PB later to get the other fun stuff; I'm also skipping the DRC preamble, since most of you are already familiar with it (short version: mostly monopole Pinot Noir that's literally atop the Burgundian classification food chain, made in small quantities, widely touted to be the world's greatest, and most definitely among its most expensive).
But I know that the geek-geek-geekiest among you want the scoop on these wines, and I know this because you've already tweeted, DM'd and emailed me about it.
Al lot. And not shyly.
So… fine, here it is, already!
First of all, there were a lot of friends familiar faces at that tasting: Elin McCoy, Mark Oldman, Andrea Robinson (whose stemware was chosen for the tasting, a nice coop for her), Jordan Mackay, and Eric Asimov, as well as quite a few NYC somms that I know who have high-end restaurant gigs (lucky bastards, all; I sat with them during the tasting, because let's face it, somms are the most fun people in the wine biz). Former Wine Advocate critic Antonio Galloni was also in attendance; I didn't get a chance to chat with him, though he did at one point give me a kind of odd look (which I took to be more a hey-am-I-supposed-to-know-you? glance than a what-the-f*ck-are-YOU-doing-here? glance). Hell, I'd have given myself an odd look at a DRC tasting, okay?
First, I'll give you the bullet-point run-down of the gentlemanly Aubert's take on the travails of the 2010 vintage for this tiny and elite spot in Burgundy, and then we'll tackle the tasting notes for all of the releases, of which you'll immediately notice two things…
1) Every wine got the Elegant badge, which is because every one of them was elegant (duh), and,
2) There's a surfeit of A+ (yes, really) ratings; that's because I've never before had wines with clarity, purity and finishes like those on display in the vino poured that day. Does that mean the wines were perfection? Not exactly, but if you're the kind of person who frets over the differences between a 96-point wine and a 100 point wine, you're reading the wrong website. Let's just say that by most accounts, DRC's 2010 was a difficult but ultimately special and successful vintage for one of the most special and successful plots of wine-producing land the world has ever known. In other words, the hype is real.
From the tongue of caretaker Aubert de Villaine (to be read with thick French accent):
"It was a very unusual vintage. We are here to see how this vintage behaves in public. It's always the same pattern: difficulty in a place where maturity is reached difficultly."
"August was one of the worst we have seen – rain, cold, with botrytis." The grapes developed very thick skins as a result, In `10, we had both risk and luck."
"The diseases we hate, but they bring quality by diminishing quantity."
The main story goes like this: flowering was an issue, with cold hitting the vintage early, and millerandge causing "'uneven evolution towards maturity from vine to vine, from grape cluster to grape cluster, and even from berry to berry within the same cluster." Skins thickened as a result, which helped them weather humidity and botrytis later in June and July. The impact on flowering also reduced quantity, which Aubert cites as the main reason the crop they did get was of such high quality.
A September hailstorm spared most of Vosne-Romanée but did impact Montrachet, along with favorable botrytis that developed on the white grapes (more on that in a few minutes). "The struggle against the enemies of the vineyard is the domaine of Nicolas Jacob, our vineyard manager, and his team. They did a remarkable job." The fact that the domaine is Biodynamic made things even more difficult, apparently: "all the time, you have to be doing the right thing at exactly the right moment."
A late spell of rain and then heat helped propel the Pinot Noir grape development, which "allowed the Pinot Noir to once again demonstrate its capacity to produce sugars at an accelerated rate just before reaching full maturity."
All in all, Aubert seemed shocked that the vineyards pulled this vintage out, despite the fact that it would defy any reason to suspect that those vineyards wouldn't produce something half-decent even if they were left fallow. And on that note, we go to the juice. All prices are estimates – the actual bottle prices will no doubt become much, much higher – which I suppose it okay since we all stand very little chance of ever getting our grubby little hands on them… preciouuuuussssssssssssssssssssssssss…

2010 Domaine de la Romanée-Conti Corton
Price: $400
Rating: A
2010 is only the second vintage of this assemblage of old vine grapes from the three DRC climats (as Aubert calls them). "I only wanted to work with the old vines," he told us. It's already finding its steady footing two vintages in; soft, spicy, but forward and immediately engaging. Red berries, cherries, clay, subtlety, softness, stoniness; but there's something kind of dark and brooding under it all, too, in the light-footed but otherwise sure-footed structure. It finishes pithy and nervy, the length and purity hinting at what it's older sisters (below) can achieve in more detail and power.

2010 Domaine de la Romanée-Conti Échézeaux
Price: $450
Rating: A
There's an entire spice rack of odors here, and an amazing grapefruit pith hanging around that is so pure it could have come from a Florida orchard. Richer red berry fruit follows, along with incense, and a mouth-watering minerality that you can smell. The palate is more serious, stern and withdrawn, hinting at earth and fruits that are elegant but also more voluptuous and juicy than the Corton. The spice is just so on point, and follows through effortlessly in a peppery and bright finish… but it has a dark side to its personality, too, like the stylized air of espionage from a spy thriller, lacking only the film score but exhibiting just as much tension.

2010 Domaine de la Romanée-Conti Grands Échézeaux
Price: $750
Rating: A+
This is where shiz started to get very, very, very interesting. It unfolds seductively, like someone beautiful teasing you as they get undressed. Same lines of pure expression as in its less expensive siblings, and spices, berries, but now all presented with more perfume and violet notes. The stoniness here is all over on the palate, which has levels of balance that I've previously only seen in high wire acts at the Ringling Bros. circus, and length that might best be measured in dinosaur evolutionary timelines.

2010 Domaine de la Romanée-Conti Romanée-St.-Vivant
Price: $1200
Rating: A+
Smokey and dark, and deep, opening very slowly, as if you were discovering the plot and themes of a classic novel like Moby Dick, one that's hard to read but worth the pain, eventually. This was the most structured of the 2010s for me, to the point where the wine was like an old school deity; resplendent, cold in its purity, unnerving in its focus, all the while not giving a single solitary crap about whether or not you liked it. Dark cherries, spice, and a sense of the weight of the entire Universe.

2010 Domaine de la Romanée-Conti Richebourg
Price: $1200
Rating: A+
The most serious of the bunch. The gates are so far up on this, it will not be coming around until many of you reading this are senior citizens, I think. It was like the Romanée-St.-Vivant but with the addition of smoked meat and even greater austerity. You won't get into the beauty beneath this exterior anytime soon, unless you've got a palate crowbar, and you don't, so you'll just have to wait.

2010 Domaine de la Romanée-Conti La Tâche
Price: $1200
Rating: A+
Well… it's the best Pinot Noir that's yet touched my lips. I'm kind of a bit f*cked for most other Pinots now, having tasted this concentrated heroine version of it. Cherry and incense and licorice to start, then grapefruit rind, game, earth, plums, raspberries… then more fruit, sweeter fruit this time, fuller and richer. The mouthfeel is at once full and energetic, almost all-consuming. Sex is usually – but not always – as good as this wine will one day become. The finish seemed to last for days. To think that it will only improve with age, and that I'm unlikely to ever get my hands on it… that's as probably as close as I'm coming anytime soon to all-out, card-carrying addiction, like Gollum chasing after The Ring…

2010 Domaine de la Romanée-Conti Romanée-Conti
Price: $4200
Rating: A+
The most complex of the 2010 DRC lineup. There are multiple levels of spices, some smoky, some peppery, some fresh, some dried. Tea, tobacco, dark cherries, earth, all rounded out by voluptuous fruit, buffered by austere, stern, and pithy resolve in the backbone. And all sprinkled with pepper (and a lot of it, at that). A hint of flowers and a lighter air to end it all when the finish finally dies out (after a good long minute or two). Enough lift to launch a bomber, whose payload will be ready to blow in twenty-plus years, I reckon.

2010 Domaine de la Romanée-Conti Montrachet
Price: $2400
Rating: A+
The rating on this wine kept ratcheting up as the minutes went by. The last one that we tasted, it's the kind of Chardonnay that everyone says they're chasing after when they tell you that they want to make powerful but fresh, Burgundian Chard. Honey, bee's wax, lemons, white flowers, melons, and just the right amount (for my tastes, anyway) of reductive, yeasty, earthy funk from the botrytis. The palate shines with a sort of mineral water sheen, moves to lemon drop and then toastiness. The long finish is… tense, thanks to the contrast of richness and length with mineral verve and acidic vitality.
I know what you're thinking… kill me now, right?
So…
There you have it; now, let us all weep in terrible despair for our mutual – but likely unrequited – love of these permanent residents of wine's upper-echelon la-la land.
Cheers!