Last week in my continuing saga as judge in the Georges Duboeuf Wine Book of the Year Awards, we took a look at the finalists that didn't make my cut into the "top three" votes for the award (and gave away a copy of Charlie Olken's excellent New Connoisseurs' Guidebook to California Wine and Wineries in the process).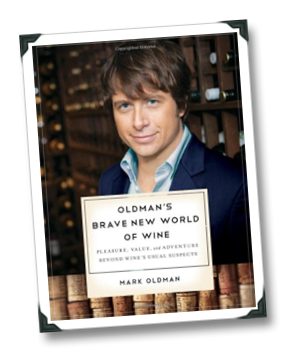 This week, we're going to look at the three that did make that cut, with my explanations as to why I chose them, exactly as I reported them to the folks running the GD awards this year.  They're listed after the jump in descending order, ending with my personal #1 pick for the award.  The official winner will be announced next week at Duboeuf's annual Beaujolais Crus preview in New York on May 24.
This week, we're giving away a copy of one of those 'top three' books – Mark Oldman's Brave New World of Wine: Pleasure, Value, and Adventure Beyond Wine's Usual Suspects!
Same drill as last week, people: you comment, and in one week I'll randomly select a winner from the list of commenters!
You can see exactly where Mark's latest release fell in my top three after the jump (for more on Mark, check out the interview I did with him back in October) – to make a long story short, his latest book kicks all kinds of wine learning ass. The main reason I picked Brave New World of Wine as one of my three finalists, however, was because Mark's book reminds us of something that I think we spend too much tome forgetting – inherently, wine is supposed to make us happy; it's supposed to bring joy, delight and (at the high end) some artistic measure to our days.
Do we miss the trick too much, and too often forget about the joy that wine is supposed to bring to us? Shout it out in the comments for a chance to win!
Enjoy – and good luck!…
3) The Finest Wines of Bordeaux: A Regional Guide to the Best Châteaux and Their Wines (Fine Wine Editions) By James Lawther MW (about $25)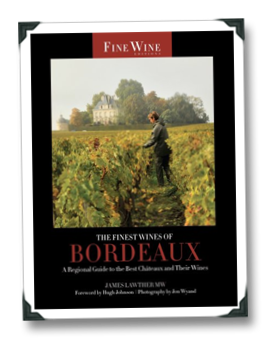 Another book about Bordeaux?  Really? Do we really need this?  Turns out the answer is "Yes."  Lawther's book is a great addition to the Finest Wines… series, all of which are visually stunning books and thankfully avoid the massive weight and size of the coffee-table-style that seems to be de rigueur in wine publication.  The book works because it also doesn't fall prey to one of the other trappings of the wine media world, which is to laud storied Chateaux without ever touching on more controversial topics, or ever saying that their wine quality suffered, or ever talking about the human beings behind those expensive releases.
This book matters because it deftly includes those elements that other takes on Bordeaux miss, and at its heart is a humanist take on what, after all, is a very human endeavor: creating wines that are meant to stand the test of time and set the bar for the world's best reds. Lawther has the knowledge to turn a small space on each producer – a few paragraphs, usually – into a knowledgeable mini-treatise on the people, the places and wines that come from them.  It's certainly one of the best takes on Bordeaux ever produced.
2) Oldman's Brave New World of Wine: Pleasure, Value, and Adventure Beyond Wine's Usual Suspects By Mark Oldman (about $15)
With this new release, Mark Oldman has matched the level of achievement of his first book, which I consider to be one of the best entry-level wine books ever produced.  That in and of itself is impressive.  In the pages of Brave New World of Wine, he offers up wine recommendations slightly off the beaten path, meant to expand wine knowledge beyond the basics and focusing on a topic often totally disregarded in the context of learning wine appreciation: delight.  And he does it in a casual, accessible writing style, and a somewhat-less-accessible but easily-learned system of icons/badges to help navigate his wine recommendations – and they're recommendations that don't requiring expending your bank account.
In the process Oldman – somehow, almost impossibly – makes the strange, esoteric, and nigh-unpronounceable of the wine world seem fun, interesting and cool. The book comes off as bit devil-may-care, but that clearly belies an intense amount of research and knowledge on Oldman's part and the result is a reference that will prove indispensible to intermediate wine lovers, particularly in the U.S. market.
1) Reading between the Wines By Terry Theise (about $15)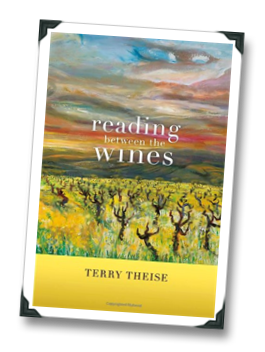 Terry Theise's opinionated treatise on why wine is important as an art might be the most important wine book written since the turn of the century, and I am actually stating that without trying to add any hyperbole.  This is not a book for the casual wine fan – it's a love-letter to anyone who cares deeply about wine, to anyone who's ever really found themselves transfixed by a fine wine, to anyone who's ever spent the time to really listen to what a true wine of place was trying to whisper to them.
The presentation of the book is sparse, and it works because the words are what are really important here.  Theise has managed to create a work just as subtle, well-crafted, opinionated, unique and characterful as the style of wines that he champions in his "day job."  If there's a better written work that stands as a convincing argument as to why we should treat wine as an art form – with all of the implications of how we appreciate it sensually as well as mentally – I've yet to read it.
Cheers!
(images: amazon.com)