This week, I'm teaming up with southern-born author Corinne Van Houten to give away a copy of her Carneros wine tour CD.
The CD (remember those? don't worry, an audio file version is also in the works) is an engaging introduction to the Carneros region, highlighting the history of (and providing current tasting/visiting tips for) eleven wineries in the area that straddles both Sonoma and Napa valleys. For my money, Carneros is one of the few areas in Napa where Pinot Noir has a shot at über-specialness (and let's not forget that on the Sonoma side, a stunning Carneros Pinot made Dude's Top 10 MIW list for 2012).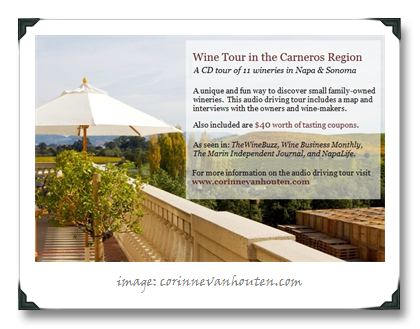 Corinne's CD is aimed at beginners (and/or those putting foot-to-dirt in touring the area), but aside from gifting possibilities there's ample fodder within Corinne's CD for the geekier among you who have yet to visit Carneros: it includes $40 worth of tasting coupons, and a map for each winery mentioned). In terms of the winery players, Bouchaine, Ceja, Cline, Domaine Carneros, Homewood, Larson Family, McKenzie-Mueller, Robledo, Roche, Schug and Truchard Winery all get profiled on the CD (several of these producers I've personally yet to visit, but now have a hankering to see – and taste – after hearing Corrine's descriptions).
To be eligible to win, you need to live in the continental U.S., and be a 21+ years old carbon-based life form consisting mostly of water. You also need to leave a comment on this post telling us all about your fave wine tour (and/or tasting spot) – doesn't matter where, I'm just curious who's doing it right. On April 9th at 9PM ET/6PM PT, I will randomly select a winner from the commenters.
Cheers – and good luck!