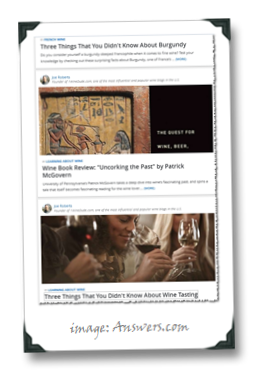 There have been some behind-the-scenes changes going on here at 1WD HQ. The more observant among you will notice that I finally ditched the comment engines altogether and have declared that war officially over, it having ended in my inglorious defeat. We'll be sticking to some enhanced WordPress comments from here on out.
1WD also has a new home, courtesy of WPPronto.com, with whom so far things have been going swimmingly. I've tweaked some other technical hosting items here and there; just enough to get me in trouble.
Anyway, today's update is supposed to be about how this month, for the Wine.Answers.com gig, I decided to go with a double-shot of two themes. So let's stop messin' around and get to it, already. Those themes are —
1) The love-it-or-loathe-it "three things…" trivia (primarily because I am a nerd), and
2) Wine book reviews (primarily because I am getting sick of looking at the ever-increasing piles of yet-to-be-reviewed sample books on my office floor).
And so, linked for your reading edu-tainment:
Three Things that You Didn't Know about Wine Tasting – Seriously, you need to respect the epithelium, people. I mean it. Get on it, your schnoz has power!
Three Things that You Didn't Know about Burgundy – Yes, I mean besides the incredibly-priced rarities. Anyway, you'll be able to impress your wine-snob friends with a few of these tidbits, I'll wager.
Wine Book Review: "Wine and Climate Change" by L.J. Johnson-Bell – "Wine and Climate Change" is a bit of a schizophrenic read (in terms of tone), but it will likely have wine geeks fascinated anyway by its well-researched and well-argued opinions (not to mention the "what-if" scenarios) about how global warming is and will f*ck-up the wine world as we currently know it.
Wine Book Review: "Uncorking the Past: The Quest for Wine, Beer, and other Alcoholic Beverages" by Patrick McGovern – Call me a homer for a wine history tome written by a fellow PA guy, but nobody covers wine's distant past like McGovern, and "Uncorking the Past" is at turns witty, insightful, and almost brilliant.
Cheers!