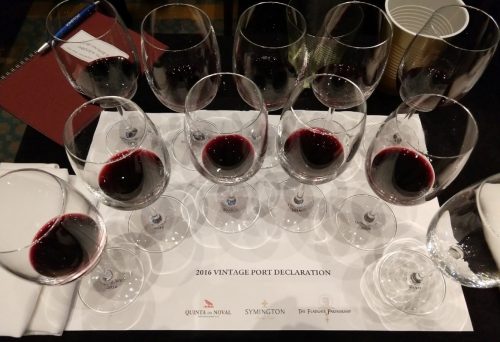 I recently received the kind of media invite that one doesn't turn down, unless one doesn't have a choice: join a bunch of wine peeps in NYC to taste through a preview of the new 2016 Port vintage, led by representatives from several of the major Port houses. Uhm… yeah, we are definitely going to that. We also tasted some quite older vintages of Port, about which I plan to tell you later, in the hopes that – like all good Port lovers – you can learnt o exercise a wee bit of patience. Also, I'm kind of a dick sometimes.
Regarding the 2016 vintage in Porto: after a seemingly endless string of vintage Port declarations in the 2000s, 2016 marks the first time in a handful of years (since 2011) that a vintage there was deemed worthy enough for a vintage to be declared. The theme, as you will see from my tasting notes of about fifteen (!) of the upcoming releases, is a sense of balance, in which both power and finesse are on display. The vintage was marked by a wet Spring, which was actually needed due to drought conditions from 2015, followed by a hot Summer. The result was a year marked by low yields; in other words, allocations are gonna be tight.
To get a deeper sense of the 2016 vintage, I also include for your listening enjoyment a brief interview that I did with Rupert Symington (part of the family that makes/owns revered Port brands Graham's, Cockburn's, Dow's, Warre's, and Quinta do Vesúvio), who gave me his thoughts on the first Port vintage in five-or-so years, why we mere mortals need to be both patient and maybe even a little selfless when it comes to buying a wine that takes decades to fully develop, and what he imbibes when he's not drinking Port.
It'll make for decent listening as you peruse the (rather longish) list of my foray into 2016 Port land…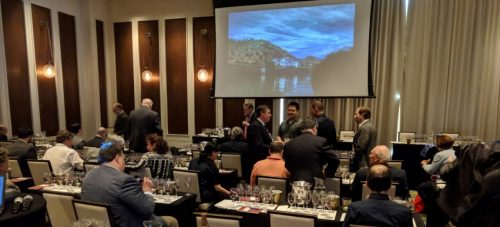 2016 Taylor Fladgate Vintage Port

Rockin' it since 1692, and over 300 years later, this vintage TF is, indeed, rockin' it. Pure, black fruitiness abounds (of the raspberry and plum varieties), and there are plenty of herbal and floral notes on the nose. But the great thing about this wine is that it's like a masterclass in tension; violets and firm tannic grip, heat and freshness (though in this huge wine, the heat has a slight lead).
A very Big Boy of the vintage, even by Port standards, and actually even by Fonseca standards, and they've never really been ones to shy away from opulence and power when it comes to their VPs. If drier fruits and mints/herbs/flowers are your thing, then this is your 2016 Port, my friend. The palate gets very Fonseca, very quickly; jammy, tight, structured, and packing a serious punch.
Croft is technically the oldest Port house (dating back to 1588), and their 2016 shows a but of characterful rusticity on the edges of a supple palate, which kind of conjures up images of traditional foot treading (which, in this case, is actually used). Herbal and rosy to start, then showing ample grip, heat, and black licorice tones, there's a sense of showiness in the pungent, expressive strawberry and cassis fruit and its long, hot finish. Fascinatingly old School, with a bit of a modern twist.
2016 W & J Graham's Vintage Port
Plums, dipped in dark, mint-flavored liquid chocolate… it really is that kind of rich. Despite that richness, the structure underneath is focused, precise, even. And the violets and smoky spice and mineral action? Too good not to love. It's like being able to drink the performance of a thoroughbred.
2016 W & J Graham's 'The Stone Terraces' Vintage Port
If I could distill the tasting notes for Graham's third Stone Terraces release (hailing from the predominantly south-facing Quinta dos Malvedos), it'd probably end up being "numinous." Abundantly fruity, powerful, silky, there are hints of how incredibly it will age among its burly, fresh, dense, dark profile. Above that dark tumult, minerality, blossom, and even citrus notes are all dancing some kind of lovely aromatic ballet. Stunning.
Here, we have a rare working combination of massive concentration and elegant poise, from a combination of the riverside houses QUinta do Bomfim and QUinta da Senhora da Ribeira. Mineral, spicy, serious, brooding, dark of blue and black (fresh and dried) fruits, and offering up tobacco leaf and lavender, too. Gorgeously fruity, amped-up, and yet so impressively balanced that it embodies pretty much every cigar room, monocle-wearing fantasy that you've ever had (or maybe that was just me that had those?).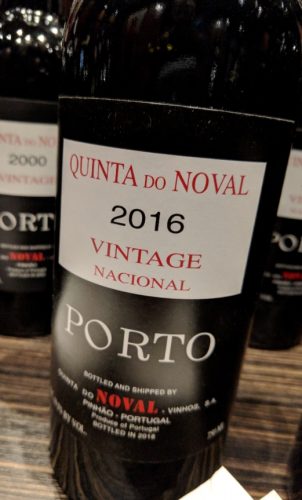 Warre's has the luxury of pulling fruit from the differing climes of the Douro Superior, and Pinhão and Rio Torto valleys. That gives their 2016 a beguiling amalgam of ripe plums/berry flavors, minty tea leaf and anise tinges, and great lift that accentuates the floral and spice notes despite the dark, chocolaty, grippy structure. A long, very dry finish caps it all off. It's a fascinating, exceptional ride from start to finish.
These guys have some of the hottest vineyards in the Douro, and so the powerful ripeness and drier fruit flavors (and tannins to match) ought to be expected. What you might not expect, however, is the clove spiciness (ok, actually maybe you should expect that), the purity of its dark fruit (on second thought… yeah, that, too) and its great acidic lift (ok, that one could have been a genuine surprise).
2016 Smith Woodhouse Vintage Port
This is really, really ripe. It's also really, really peppery, well-integrated, fresh, powerful, and floral (think roses and tea). In other words, it's also really, really f*cking good. It might also be one of the most substantial and weighty of the 2016s, so bring your big boy pants for this one.
2016 Quinta do Vesúvio Single Quinta Vintage Port
If history is any guide, Vesúvio's 2016 will deliver some of the best bang-for-the-Port buck that you can get from this vintage. They are consistently excellent now, favoring foot treading of their upper Douro Superior fruit. Notes of resin and lavender, liquer, mineral, and dark blue and black fruits kick things off here. The palate is velvety, the finish boisterous and extraordinarily long and pure, with a spicy exit. It's close to what I imagine doing a shot of "purity" would be like, if existential concepts were available in by-the-drink form at the bar.
2016 Quinta do Vesúvio 'Capela' Vintage Porto
This is only the third Capela release for Vesúvio, which takes much of its fruit from 90+ year-old vines in the Vinha da Capela vineyard, with some Sousão and Alicante BOuschet from the Vinha da Escola vineyard. And holy spicy, perfumed awesomeness, Batman! The nose here, even in its youth, is simply fantastic: chocolate, rose, mint, lavender, violets, and… peppery AF. Plummy, and big, but also exciting, fresh, and a delight.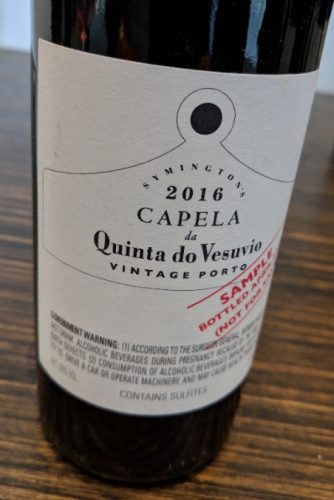 2016 Quinta de Roriz Vintage Port
Roriz's vineyards are between Pinhão and Tua, on the south bank of the Douro River and are mostly northward-facing. The result is a cooler climate (in Port terms), and their 2016 evidences that cooling influence with more noticeable (though certainly dense) red fruits, notes of bramble, and plenty of mint. The palate is mineral, the tannins drying, and the whole thing is a mini wonder in terms of texture.
2016 Quinta do Noval Vintage Port
Raisins, spiced plums, licorice, dried herbs, black fruits, violets… typically complex stuff, for which we Port nerds have come to know and love Noval. The 2016 starts out tighter than a bull's ass during fly season, but unfolds into layers of blue fruits, spices, pepper, and stony minerals. Rich, fresh, elegant, and flaunting all of it.
2016 Quinta do Noval Nacional Vintage Port
170 cases of this rare and rarefied Port were made, from ungrafted vines that are, in their words, "attached to the soil of the nation." The vineyard plot, planted to various indigenous Port varieties, is co-fermented, and foot trodden in small lagares, and actually everything about the winemaking here is small in size, like small quantities, from vines that give small (and intense) berries. There's nothing small about the tannins here, though, or the finish (which is long AF), or the freshness (off the charts for Port), or the complexity of the palate (spicy, supple, grippy, and superb), or the intensity of the nose (schist, pepper, eucalyptus, tobacco leaf, blackberry, plums, and flowers). The words "holy f*ck" appeared in my tasting notes, as used to describe the layers of fruit/spice/texture/tannin and their joyful, dancing interplay; it's nearly a perfect vintage Port.
2016 Quinta da Romaneira Vintage Port
At the time of the first comprehensive classification of Port vineyards in 1757, Quinta da Romaneira was already tending vines. Their VP is primarily a selection of their older Touriga Nacional and Touriga Franca plantings. While I wasn't crazy about the finish, this might be the most mineral and also one of the most aromatically compelling of the 2016 VPs that I tasted. It's powerful, dark, and floral, with cassis, raisin, roses, spices, herbs (and lots of those), and bramble, all anchored with focus and structural tension between freshness and richness. I wager that it'll be gorgeous drinking in, oh, about twenty years or so…
Cheers!