"We don't want a square strawberry."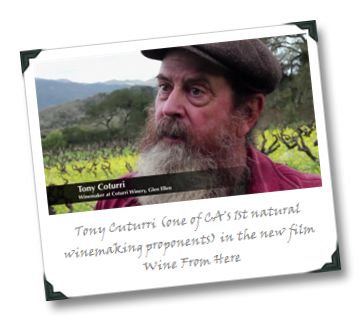 So opines Ridge's Paul Draper in the first half of Wine From Here, a documentary about (and at points a bit of a commercial for) the budding natural winemaking movement in California (I got a sneak peak by invitation from one of the filmmakers, Martin Carel of Wino Brothers Inc.). The trailer is embedded below for your viewing pleasure.
The film will be screened in L.A. in a couple of days, followed by a tasting of natural wines with winemakers featured in the film at BUZZ Wine / Beer Shop – and if you buy tix to the event online you'll get 1/3 off the full price by using discount code "1WD" at checkout!
Draper's comment above is in reference to (what I think is) the strongest selling point behind natural winemaking: consumers ought to know what they are getting when they buy a product, and in the case of wine sometimes they are getting a lot more than just fermented grape juice, primarily in the form of various additives (for more on that topic, and for a rough definition of natural winemaking itself, see my review of Alice Feiring's new book – she makes several appearances in the film, by the way). And as we know well, consumer sentiment is king, and will play a large part in whether or not the natural winemaking movement gains any serious traction in the wine biz and becomes the vinous equivalent of the organic / slow food phenomena.
Based on the film (which is well-made, and is highly recommended watching for wine geeks), the natural winemaking movement sorely needs to emphasize its strong points, because it's still touting a few tenets that hold less water than well-drained gravelly vineyard soils…