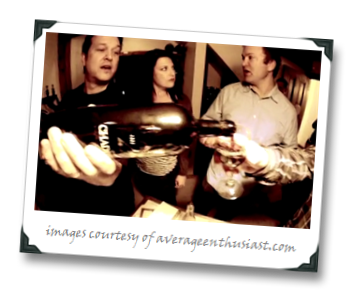 The first thing most people over the age of twenty-five think of when you ask them to name a song about wine is probably UB40's Red Red Wine, which is ironic because they're all totally drinking beer in the vid for that tune.
In a similarly ironic case of music-meets-wine creative worlds colliding, the band I've been playing in for… well… for a long time (some of you will remember us as the dudes who recorded a rock version of the Snow Miser/Heat Miser song, and a reggae/dub take on the Oompa Loompa Theme – we're kinda into the holidays), has just released a video (available for your viewing pleasure below, after the jump) for a tune titled Wine Kissing Days.
The ironic part: the song is about the social pleasures of sharing wine (a near-constant theme among these virtual pages), was filmed in part at local PA producer Chaddsford Winery (which has been profiled here) BUT… apart from playing bass on the tune I had nothing whatsoever to do with it. More on that in a minute or two. Also, since we know that the music played during wine tasting impacts the qualities that people recall about the wine, if I were a tasting room manager I'd buy a few copies (you know, like, 10,000 or so) of this song. Just sayin'.
Anyway, you can hit up iTunes to grab the tune (and the album from which it comes, "Tricky, Seabass & the Hun" – and damn, it sure makes me feel old to even talk about the conceit of an album at this point), but I'm giving away a copy of the new Steve Liberace Band CD (another near-ancient conceit!) to three lucky randomly-selected commenters!…