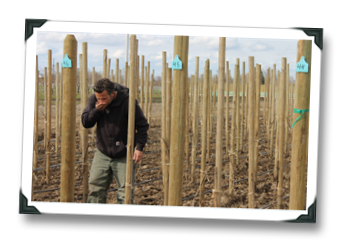 "And I'm
Not sorry for
The things I've said
There's a wild man in my head
There's a wild man
In my head"
Christophe Baron, the short, edgy, high-energy force behind Walla Walla's controversial Cayuse, is sniffing dirt. And – in a very thick French accent that betrays his Charly-sur-Marne heritage and belies his nearly twenty-year stint in the Pacific Northwest – he's imploring me to do the same.
"C'mon! You've come all this way to Cayuse! You've got to SMELL IT!!!"
Just moments before, a burly and beautiful Belgian draft horse was turning over this soil (in a vineyard named, for obvious reasons, "Horse Power"), so I am less than totally enthusiastic about the possibility of getting horse shit up my nostrils. But this guy's energy is such that he makes me seem calm, so I acquiesce (as if I had a choice). These newer plantings were "designed for the horse," Baron explains, with three-feet between the rows. "With the horse, you can't rush it, you can't force it. But the texture of the soil is like couscous… This is the reason why I'm here."
Spend any appreciable time with Baron and you will not only sniff horse-powered dirt, you will hear impassioned proclamations such as "I am not a winemaker;" "Let's all take off our clothes and get naked;" "There are a lot of things about Biodynamics you cannot quantify… you cannot quantify the smile on a beautiful woman;" "I'm like a dealer, I sell pleasure… liquid pleeeeeasuuuuuure;" and "no pictures on Facebook!" not all of which you might fully understand or be able to distinguish as serious or jovial.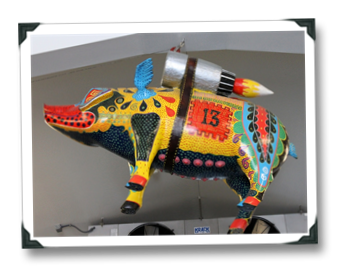 But there's one thing that is easy to understand: why Baron's wines are controversial. Garnering stratospheric scores from The Wine Advocate and skyrocketing in secondary market prices after release, Cayuse offerings can be stunning, odd takes on Rhone-styled reds; often demanding, beguiling, and off-putting all at the same time. If you've ever watched a movie – or read a novel – that seems brilliant but has disturbing scenes in it, the kind of scenes that haunt you later but without which the central themes of the work wouldn't be nearly as powerful, then you've got an idea of what it's like to come face to face with Cayuse's juice.
To understand these take-no-prisoners wines, you need to understand the background of the take-no-prisoners Baron, and Walla Walla's take-no-prisoners geographical landscape…