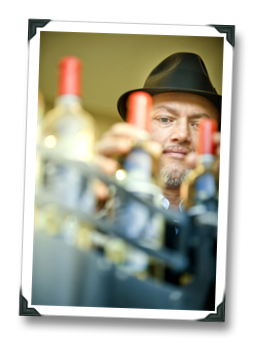 To put it mildly, today's interviewee guest is a bona fide bad-ass rock star. Oh, yeah – he happens to know his wine, as well.
Geoff Tate is best known as the voice behind uber-rockers Queensryche, who garnered critical acclaim after releasing the brilliant hard rock concept album Operation: Mindcrime in 1988 – followed shortly afterwards by a chronicle of their ambitious live rendition of the entire album (Operation: Livecrime, which on a bad-ass scale of 1 to 10 comes in somewhere around a 37).  Their 1990 studio release, Empire, went triple-platinum and catapulted Queensryche into cross-over super-stardom, launching about a thousand copy-cat hard rock acts who tried – but never quite matched – the uniqueness of Empire's best-known track, the power-ballad Silent Lucidity. 
In other words, Queensryche ruled hard-rock in the early `90s.
They've been rocking ever since, maintaining a hard-edged musical integrity, exploring social themes, and continuing to push their own boundaries even when those directions meant less fame. A core group of fans have followed them throughout, and Queensryche is currently touring in support of their latest release, American Soldier, a chronicle of wartime experiences based on conversations with American military personnel, and consequently one of their boldest artistic statements to date.
Tate, a Washington native, has been making wine with Walla Walla producer Three Rivers Winery for the last few years, starting off with a Bordeaux-style red blend called Insania and recently adding a Bordeaux-style white blend to the Insania lineup. 
I tasted samples of the 2009 Insania White and 2008 Insania Red, and found both quite good and clearly made with food pairing in mind. the wines might not be to everyone's tastes (the Insania red being relatively big at 14.5% abv) but it will take only one sniff to dispel any doubts that the wines aren't serious, or that they're simply another celebrity vanity project.
The 2009 white (mostly Sauvignon Blanc) is the simpler of the two, with tasty melon and citrus moving into a "fleshy" mouthfeel (thanks to a healthy dose of barrel-fermented Semillon).  It's not svelte, but clearly the fruit from Red Mountain's Klipsun vineyard (which makes up over half the Insania white blend) has great potential; here it delivers a wine that totally rocks with shrimp and avocado burritos.
The 2008 Insania Red (primarily Cabernet Sauvignon, with dollops of Merlot, Malbec and a tiny portion of Cab Franc) offers complexity on the nose that one wouldn't expect from a wine sourced from six different vineyards. The almost sweet and very dark fruit is complimented by cedar and black olive notes, and there's enough acidity in Insania to tame its brooding tannins with a beef filet; it might be big, but it's anything but dumb.
Geoff was kind enough to take some time out of the Queensryche touring schedule to answer a few questions about Insania and offer his take on several wine topics.  What follows is an insight into a wine-knowledgeable hard-rocking brain, and fans of Queensryche's music will not be surprised to find that Geoff has strong opinions – specifically, on where to go for wine recommendations, pairing wine with fine cuisine, and wine's role in American society.
Enjoy!…