Forthwith, we continue my highlights from the 2017 incarnation of VinItaly, held in Verona earlier this year, and to which I was lucky enough to have been invited as a media guest.
[ For background on VinItaly, details on the first batch of wines that grabbed my vinous attention at the event, and the format for these highlight reels, see Part 1. ]
We have many a wine to highlight in this second installment, so… a rush, and a push, and the land will be ours… let's charge right into things. First, the bubbles: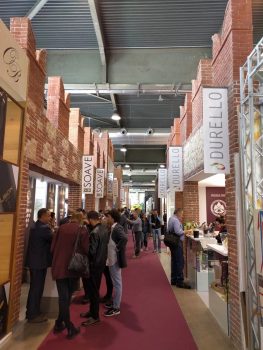 2016 Ca' d'Or Lessini Durello Blanc de Blancs Selezione Vintage, $NA
Lessini Durello is an odd bird of a wine; it's growing, for sure (from 3 to 26 producers in the last two decades, now pumping out about one million bottles per year), but its primary calling card, aside from the bubbles, is still acidity. And I mean, acidity. As in, face-ripping, blood-of-the-Alien-zenomorph kind of acidity.
What I liked about the Ca' d'Or Selezione is that it offered aspects beyond the face-peeling and gum recession: tropical and exotic fruit notes, limes, white flowers, and pineapple hints that were more subtle than overt. This is Durello tweaked up a notch or two, with an emphasis on balancing all of that ample acidity with purity of fruit….