It takes some serious chutzpah to pour your super-Tuscan red, sans hesitation, alongside Le Macchiole Paleo, Ornellaia, and Sassicai.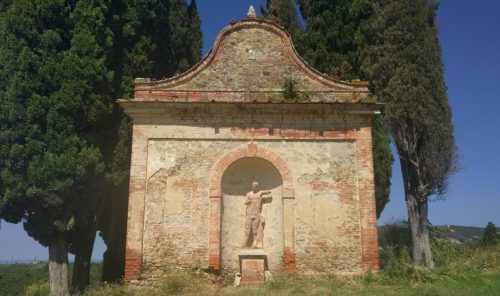 Now, you might expect that kind of faccia tosta from the Italians, but in this case it came from Frenchman veteran vigneron Pierre Seillan who, alonf with winemaker Lawrence Cronin and vineyard manager Michele Pezzicoli, produces the Cabernet Franc-dominated Arcanum at Tuscany's Tenuta di Arceno (I visited as part of a media jaunt earlier this Summer).
Tenuta di Arceno is part of the Jackson Family megapolis of wine brands, for which former Loire and Bordeaux winemaker Seillan also oversees Château Lassègue in Saint-Émilion and Anakota in California. The gorgeous, Etruscan-history-tinged estate, nestled in the San Gusmé area, was purchased in the early 1980s, and now has about 230 acres (among 2500 total) dedicated to the vine.
Seillan's faccia tosta isn't just for show; the guy is happy to make bold pronouncements about his wines, because at this point he has notched enough winegrowing experience that the of-course-that's-how-it-would-be timbre of his words are bolstered by an unspoken sense of and-I-know-this-because-I've-lived-it-twenty-times-already. "The future of this region," he noted, "is to show the potential of the wines in ten, fifteen, twenty years."
To wit: Arcanum was birthed in 2002, a difficult vintage for Tuscany. "Cabernet Franc showed its elegance," Seillan said of the vintage; "we had a revelation in Cabernet Franc!" Based on the result, Sellian and his team decided to replant and re-graft even more Cabernet Franc on the estate, some utilizing 20+ year old rootstock. Sellian told me that he now wants to bring Château Ausone's team here, to "scare them a little bit…"