A vintage Sekt, a northern-Italian inspired Napa white blend, a Vintage Port from a sleeper of a producer in a not-so-sleeper of a year, and a single vineyard, old vine Chilean Malbec. All have taken the #1 spot in previous "vintages" of the 1WD Most Interesting Wines of the Year list. Believe it or not, the MIW list is now in its fifth consecutive incarnation, and it sure as hell ain't getting' any easier to produce each year!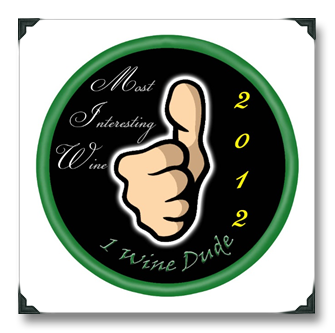 Both the number and quality of wines that I sample increases exponentially each year, and so the competition (such as it is) for those that stand out as somehow being the most special in some way/shape/form increases dramatically as well.
Having said that, there's a crap-ton of very good, but not very memorable wines out there… and I tasted a LOT of those to get to the ones on this top ten list.
Having said that, I feel somehow emotionally cheated with the list I'm presenting to you today… because so many excellent wines that I tasted in 2012 are missing… wines that could have been on here if it were a top 25 or top 50 list.
This list, as long-time 1WD readers already know, is not a "best of" or "highest rating" or "circle jerk" comparison (no mater what the PR folks do with it!). It's intended to be a list of wines that stood out, to me, as being particularly interesting, high quality and full of complexity; an attempt to shine an additional spotlight on vino that I found to be among the most compelling drinking experiences I had this year.
A few more moments of preamble: these are not wines released in 2012 (though I try to favor recent releases, so that you have a chance of actually trying them), they are wines that I tasted in 2012.  Not all the wines I tasted in 2012 qualified – the wines have to be at least somewhat available (also so that you have a shot at trying them). Things got expensive again this year; not sure what that says about me, or the wine biz in general, but not all of the vino on this list is stratospherically priced (though a few are – sorry, I gotta call this stuff as I see/taste it!).
I invite you to take a gander at previous vintages of the Top 10, to see how things have evolved over the last five years: 2011, 2010, 2009 & 2008. Reactions, exclamations, bitching/moaning, exaltations, and the like are all, of course, welcome. But most of all, I hope you enjoy the walk down 1WD memory lane.
Oh, yeah – and this year, at one spot in the list we have a tie, so technically there are eleven wines in the list (go ahead… flame me up for it… you know you wanna…).
Enjoy!…