In part of his coverage/promotion of wine blogger Alder Yarrow's new gig as part of Team Jancis over at JancisRobinson.com, wine blogger Tom Wark rightly points out that it's almost paradoxically at once significant and also a natural, balladromic bit of evolution to have an established wine personality tap into the blog-o-world when seeking to add more wine writing talent to their publications.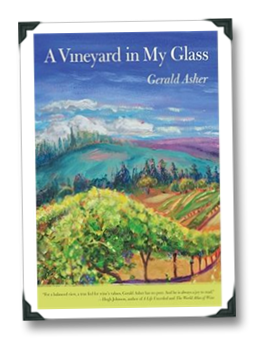 Tom also claimed that "we are living in the Golden Age of Wine Writing and the Golden Age of Wine Writing Talent."
I read those words during the same period of time that I was making way through a review copy of long-time wine scribe Gerald Asher's new collection of writings, A Vineyard In My Glass (not literally at the same exact time, of course, I'm not Thomas Jefferson, so I'm not reading eight books simultaneously while also dictating correspondences and cataloging in detail how many of my goats died from frost exposure last Winter while slaking my thirst with Scuppernong , or whatever), and I can tell you that just about every page of Asher's collection screams out (in a polite, congenial British scream, of course) that Tom is way off base in his claim.  I say this with mad respect for Tom, of course, but…
Sorry, bro. We are not even close to being in a golden age of wine writing talent – unless you extend that Age's starting point back far enough to include the writings of Asher and Hugh Johnson; because in terms of plying the craft of writing and applying the focused, dedicated talent of it to the world of wine, those two writers have NO modern equal.
If you're reading this and you haven't sampled the writings of those two stalwarts, then you need to do so with all speed. If you're reading this and you fancy yourself a wine writer, I'm willing to bet a case of DRC that you couldn't go toe-to-toe in terms of writing skills with either one of those gentlemen, even on your best day…