I know that a lot of people like to jokingly poke fun at New Jersey from time to time (c'mon… admit it… they even had a NJ joke in Madagascar 2 and that was a kids flik), but do some people really think that NJ's citizens are actually that dumb?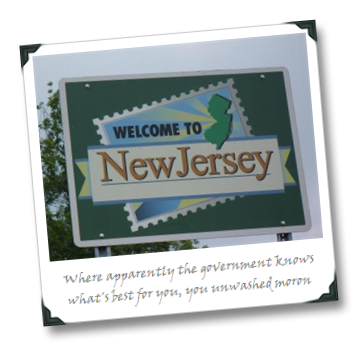 Apparently, some of them do – including Joseph Cryan, Assembly majority leader and representative of NJ's 20th Legislative District. Whoops!
Tom Wark alerted me to this little ditty, an Opinion piece published in the Times of Trenton (that's in NJ, for all you West Coast people) and written by Cryan, in which he attempts to justify a bill that he sponsored – one that basically doesn't allow direct wine shipping in NJ. Cryan also goes on to lambast a separate bill that I'm assuming he opposed – one that does allow for direct shipment of wine to NJ consumers.  Here's an excerpt of Cryan's OpEd:
"…in New Jersey, we have a three-tier distribution system in place to protect our great state's citizens, children, safety and revenue. The system has worked since 1933, and we should not be bullied by out-of-state wineries that seek to destroy it. The three-tier system has led to 60,000 retail jobs in our state; if we were to allow direct shipping, those New Jersey jobs could all but disappear."
Wow.  So, let's get this straight: according to Cryan, if they allow direct shipping in NJ, then they not only succumb to the "bullying" of out-of-state wineries, but will lose upwards of 60K jobs, will put the state's children into rehab (supposedly they're getting smashed on La Tache at, like, $3K/bottle?) and will miss out on an ungodly amount of revenue?
Save the children! Board the windows!! Annie, GET YER GUN!!!…
The trouble I have with all this nonsense is not so much that it's nonsense, or that Cryan got it all wrong – which he did: direct shipping experience in other states has shown that none of those things are likely to happen (for more on why Cryan's take is off the mark, see my friend David White's rebuttal).
No, what irks me is that Cryan apparently thinks that his own constituents are dumber than bag of hammers.  Part of the fun of jokes about NJ is that we now the people who live there are actually smart, and nice, and that the state isn't a toxic waste dump, etc. (nothing personal, NJ people… it's just that making fun of NJ is kind of what we do sometimes in NY and PA when we've had too many beers… I know, it's terrible…).
Anyway…
Why do that?  Why even go there? Why treat your own constituents like dim watt bulbs? I mean, if they're savvy enough to want to order wine from their favorite producers, wines they couldn't otherwise get in NJ, then aren't the smart enough to search on the Internet and find information and study results that refute Cryan's scare-tactic defense?
There is certainly something stupid going on in NJ, but it's not on the part of their wine consumers – it's on the part of some of their legislators.  You deserve better, Jersey, and you know what to do if you're a wine lover: vote 'em out!

Cheers!