The short answer to the question posed in the title, for the impatient among you, is "Yes."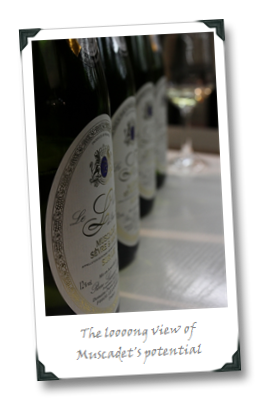 At least 35 years, in fact (maybe more).
The long answer is considerably, well, longer… and a lot more complicated, but those who choose to brave its circuitous path will be rewarded with tidbits of French wine family history, geographical trivia, a short-list of ridiculously overachieving wine bargains from two of the Loire valley's best Muscadet producers (who have chosen to go beyond the region's simple-and-saline oyster-pairing quaffers), and a mustache that has to be seen to be believed.
Your call.
But if you're feeling adventurous…
The tale begins with a tasting of Domaine De La Louvetrie (and said mustache) at the 2012 Salon des Vins de Loire (that region's annual over-the-top exposé of more than 600 producers, who pour their wares for the media and trade in elaborate booths in a convention center that spans the area of several Manhattan city blocks), and ends with a Luneau-Papin Muscadet from 1976 that showed no signs of slowing down any time soon…