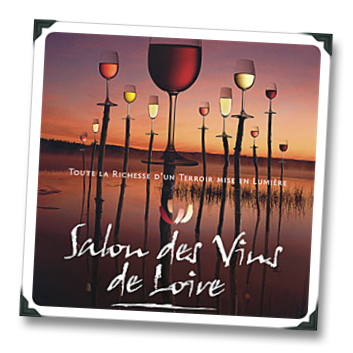 This week, I'm in the historic-but-tourist-friendly French wine region of the Loire, on a press trip attending the the 2012 Salon des Vines de Loire. This annual vinous showcase in Angers features about as many Loire wines as the Loire river is measured in miles (over 600). So, I'm expecting to spit… a lot (and not just at the stuff the French people say to me).
The travel could mean some slightly interrupted service here on 1WD, most likely the week after I return while I'm catching up on the three-to-four thousand things to which I will need to attend when I get back (such as hitting the treadmill overtime after indulging in what the French consider a relatively normal volume of dietary fats). I'm hitting Napa very soon after my return from France (for a ton of producer visits and my annual coverage of the madness that is Premiere Napa Valley), and the space in between those trips will largely be occupied by, I hope, sleeping. All of which is a (very) long way of saying that your patience, as always, is most appreciated!
I'd tell you more about the Salon, except I don't actually know too much about it because their website is, putting it mildly, in the running for the least useful Internet destination in the history of the known Universe. So I thought that I'd offer up a few interesting facts about the region instead, embellished slightly 1WineDude style for your edu-tainment…
Some Loire Did-You-Knows:
Peasant-turned-religious-icon Joan of Arc first presented herself to the Dauphin in the Loire town of Chinon, where she imprudently demanded both that they put her at the head of the army, and that Chinon stop making stinky, Bretty red wines. Only one of those demands was met (obviously).
In 2009, the Loire was not only #1 in white wine production volume in France, it was also the #1 wine region requested in French restaurants (and the #2 region for sparkling wine production in France, second only to (duh) Champagne.
One of the world's most interesting regions for white wines, Vouvray is an unique spot in that its entire acreage is devoted pretty much only to Chenin Blanc. What it lacks in varietal diversity it more than makes up for in stylistic diversity, however: just about every sort of wine is made here, from dry still whites to (various sweetness levels of) sparkling to dessert wines.
In the Triassic era (when Coelophysis roamed the earth, and when Wine Spectator was founded), the Loire was at the bottom of an ocean. Sea fossils are relative common finds here, and its pre-history history is responsible for the area's gorgeous tuffeau stone soil – which is used not only to carve out wine caves, but also to build some of the most impressive chateaux in the area and beyond (including spots like London's incredible St. Paul's Cathedral).
The world's most translated author is Agatha Christie, who was not from the Loire. But the world's second most translated author was – Jules Verne. Verne was from Nantes, and as most people know predicted submarines and space travel in his sci-fi novels long before they became viable from an engineering perspective (he's also rumored to have been the first wine blogger…).
More to come from Angers!
Cheers!