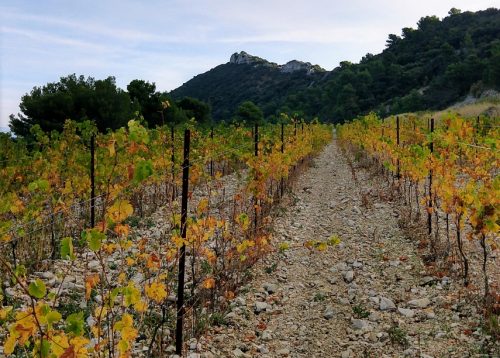 Smack up against the Dentelles de Montmirail mountain range sits Gigondas, a former ancient Roman soldier retirement home area and Southern Rhône cru that, technically, contains more woodlands than vineyards. And that's after a killer frost in the 1960s wiped out a good portion of olive tree plantings, ushering in a shift towards more vine plantings. All in all, Gigondas is about one third the size of its more famous, direct-competitor cousin, Châteauneuf-du-Pape.
Terroir here is "like a layer cake," noted Domaine Pierre Amadieu's Henri-Claude Amadieu when I visited on a media tour last year. "A layer cake of limestone and clay, limestone and clay…" While Grenache is the name of the game here, there are a few main differences between Châteauneuf and Gigondas, excluding the fact that Gigondas' slightly warmer climate has a tendency to make their reds even more powerful than CdP.
The entire Gigondas AOC has a North-Northwest orientation, and it's plantings are almost exclusively at elevation – in some cases, upwards of 500m. It's rugged, hillside farming on soils that range from marls, to sandstone, to Miocene sand, to Cretaceous limestone rich in fossilized marine life.
The short version when it comes to Gigondas: height matters (see what I did there?). The higher elevation makes for stout reds that might be compact, but pack a big, tall punch…
Read the rest of this stuff »