A conversation I had at the tail end of the 2014 Premiere Napa Valley Auction:
Alder Yarrow: "So, where are you visiting when you're in town?"

Me: "I've got appointments at Stony Hill, Kapcsandy, Casa Nuestra…"

Alder: "Casa Nuestra! Oh, yeeeah!"

Me: "Did you just squeal?"
And so there you have it, one of the best ways to summarize the Old School coolness of Casa Nuestra: they made the grand-pappy of wine blogging, Alder Yarrow, squeal happily like an eight-year-old girl at a princess party.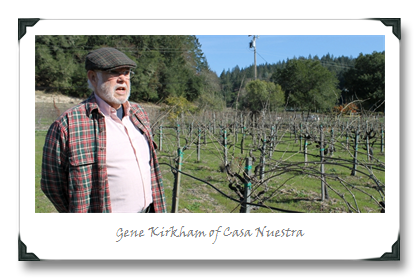 And they are, for sure, Old School cool: funky tasting room, tiny production, "unhip" grape varieties (Chenin Blanc was planted on their Silverado trail vineyards in 1979), and a winery website straight out of 1999. The only way that owner Gene Kirkham could further transcend the trappings of the modern Napa Valley would be by physically teleporting his entire operation to some other part of the globe entirely.
And the wines? Well, they're straight out of 1979 or 1989. And in this case, that's a very, very good thing…