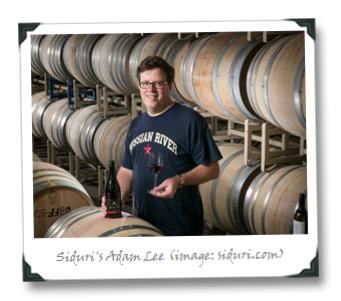 Siduri's Adam Lee is a rabble-rouser.
He's probably most known for producing interesting Pinot Noirs using from several different west coast vineyards (more on some of those single-vineyard wines later this week). He's also pretty well known for something else: a couple of years ago, while taking part in a panel on alcohol levels and balance in Pinot Noir wines at World of Pinot Noir, he swapped labels on two of his wines (one at 13.6% and the other at 15.2% alcohol) just to prove a point.
That point is that a wine's abv doesn't matter anywhere near as much as a wine's overall balance in how it presents itself, and its harmony among its constituent parts (tannin, acid, etc.). It's the kind of rabble-rousing trouble-making that I enjoy. It also helps that the wines don't suck, either!
Lee and I have been trying to get some sort of interview done for… well, years, actually, and never seemed to get around to it.
Until now, that is.
Here is our (unedited) interview for your reading enjoyment. We talk abv, of course, but also CA Pinot, sex toys, goddess's nipples, the hard work of wine criticism, and whether or not wine blogs matter.
Lee isn't short on entertaining opinions, as you will quickly learn…