Piling onto so-called expert wine evaluators has become all the rage lately. Remember when the California State Fair commercial wine competition judges got steamrolled (again) by data showing that blind tasting medals are awarded in a random distribution?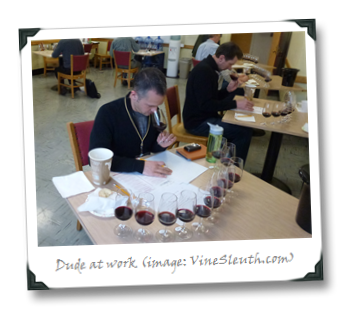 So expert wine evaluation is all just donkey-bong bunk, right?
Not so fast, Jerky.
According to data collected over the last several months by VineSleuth, it turns out that when we live by the wine evaluation data sword, we also die by the wine data evaluation sword. VineSleuth's data show that expert wine evaluators "are able to repeat their observations on individual wine samples about 90% of the time" when tasting wines blind.
Now, where I come from, 90% is a sh*t-ton better performance than can be explained by random chance. It suggests that the blind wine evaluation game isn't so clearly flawed as some might make it out to be.
And before you start manically flailing away at your keyboards typing me flaming e-mails about how the experts chosen for VineSleuth's analysis must not actually be experts, or that their (patent-pending and proprietary) methodology is somehow flawed, you should know that they ran it with the help of sensory scientists and numerical algorithms researchers/experts, and that they stocked their tasting panels with folks who make their livings tasting wine: winemakers, oenologists, sommeliers, writers… and little ol' me.
And pretty soon, you'll be able to test out my work for yourself…