I figured those of you who might be disappointed that the predicted 2011 Rapture didn't turn up this weekend might need a pick-me-up.  Not me – I, for one, knew for certain that the Rapture was not coming, because the only true sign of the approach of Rapture is (of course) a lanky guy in an all-white suit and white top hat wearing shades with red lights in them during the night time and getting his groove on with some funky dance moves.  And I didn't see that guy this weekend anywhere…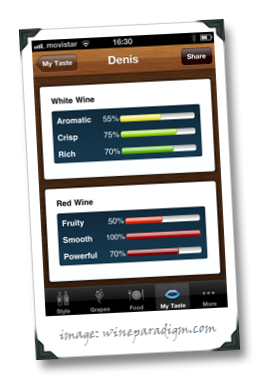 Anyway… the pick-me-up takes the form of our latest giveaway: this time I've got promo codes for three free copies of the recently-revamped iPhone wine app Pocket Wine, sold by Wine Paradigm (a $3.99 value). This is not to be confused with last week's giveaway, which is still running until Wednesday. Got it?  I promise no more concurrent giveaways, because I don't want anyone's head to explode.
What has been exploding, however, is the volume of mobile-related wine content in recent weeks (see my recent take on VinPass, and another story posting here later this week on iPad wine mags), so today's giveaway feels timely (to me, anyway).  It also, in turn, makes me feel increasingly older and out-of-date with the mobile scene, since I don't own an iPhone, a Droid device, or an iPad (hey, Apple: potential sponsorship opportunity here, people!) and therefore have had to request screen prints from the mobile apps that carry my reviews to approve anything they do with my content, since I can't view the stuff in its native format.  I know… I suck… Whatever.
You know the drill: you comment, and in one week I randomly select winners from the commenters!  There will be three winners, each receiving one promo code each for a copy of Pocket Wine.  Disclaimer: I'm giving away promo codes (here's how to redeem them in the Apple App Store if you're one of the lucky winners), not devices – and if you're a winner you have to redeem your promo code by June 13th (or it turns back into a pumpkin… or at least stops working).
One thing I like about Pocket Wine is that it has (or seems to have, based on the screenprints!) a focus on developing and tracking your own personal taste preferences (see inset pic) – and we all know that I'm a pretty big fan of that approach, because it's how I learned about wine in the first place.  But it's a player in what seems to be an increasingly crowded field of wine-related mobile apps.
So our topic for the comments: How do you feel about the plethora of mobile wine apps? Handy tools? Or just crapware taking up your precious mobile phone memory?  Got any faves?  Shout it out for a chance to win!
Cheers!