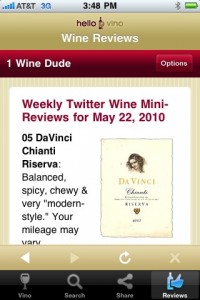 A strange thing happened to me recently.  Actually, it happened to 1WineDude.com, not to me.  And yes, I mean stranger than the normal level if strange on this blog.
I agreed to contribute content to a platform that I can't really access and probably won't use.
Specifically, I've let Hello Vino, the popular wine recommendation mobile phone application, have access to my wine reviews.
I'm part of a larger group whose reviews / recommendations are now appearing in Hello Vino.
It all feels a bit odd, since currently I don't own a phone capable of running the app., and in general I don't use quick wine recommendations (printed or otherwise) when shopping for wine at the store (I usually talk to the store employees about the available wines instead).
However, I was (quickly) convinced by the (compelling) arguments of others that having access to some of my reviews and recommendations would be valuable for the (many, many, many) folks who don't think and act the way that I do (i.e., a nice way of saying that they are sane and normal and I'm, well, not quite normal)…
I had to ask the nice Hello Vino folks for screen prints so I could see how the end result looked (which I think is really cool, by the way – see inset pics).
What I'm wondering is, are the people who convinced me to share the content right?
Do YOU use mobile apps for wine recommendations?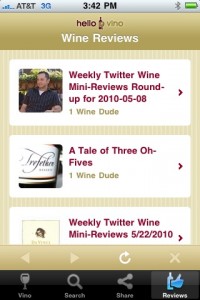 I'm no poster child for gadgetry, despite having spent a loooong time in the IT industry.  I regularly wear out cell phones for 2-3 years before even considering an upgrade.  Here's a telling example: when asked during an IT cross-industry group conference call about which cell phone features were most important (answers ranged from "ability to synchronize e-mail and contacts" to "accessing and rebooting LINUX servers remotely") my response was "the ability to send and receive phone calls."  In other words, I still think of cell phones as, well, phones.
But the ultra-modern, hip, worldy, tech-saavy, metro-sexual, millenial and Gen-X set?  I'm guessing that you could type a novel on the virtual keyboard of your cell phone in 6 minutes while watching streaming video and listening to the latest MP3 release that you just downloaded from the American Idol website.
Or something like that.
I'm going to be nice to you because I'll want you to visit me in the old folks home from time to time so I'm not lonely.
Anyway, let's hear it – Do YOU use mobile wine apps?
Cheers!