Many wine geeks realize that American wine is made in every state in the Union (though not always from grapes).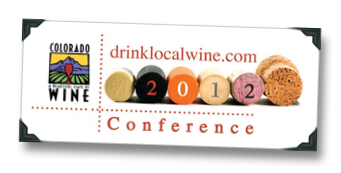 Far fewer of those geeky imbibers have actually tried a U.S. wine that hails from any states other than CA, OR, WA, or NY.
While I've certainly had my share of wine from "alternative" winemaking states, the majority of that experience has been with juice made in my home state Commonwealth of Pennsylvania. There have been some exceptions, of course – most recently a deeper dive into the mixed-bag of Virginia wine country as part of the 2011 Wine Bloggers Conference.
That's a situation I'm going to change imminently, as this week I'll be a media guest at the 2012 Drink Local Wine Conference in Colorado.
What do I think of Colorado wine? You'll find out as soon as I do.
Do I have high hopes about the overall quality of CO juice? Not really.
But before all of you locavores flame me for selling out to the states with the already well-established production histories – or before the snobbier of you jump to any conclusions about all U.S. wine made outside of the Big Four states sucking donkey bong and want to lump me into your malformed opinions – please hear out the reasoning behind those limited expectations…