Sign Up
to get all the latest wine coolness delivered to your virtual doorstep. I've also got
short, easily-digestible mini wine reviews
and some
educational, entertaining wine vids
. If you're looking to up your wine tasting IQ, check out my book
How to Taste Like a Wine Geek: A practical guide to tasting, enjoying, and learning about the world's greatest beverage
. Cheers!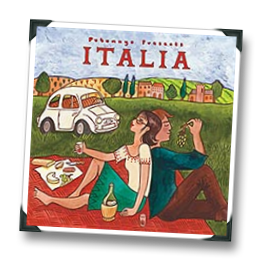 Giveaways are back!  But despite the title, I'm not giving away stemware!  Whoops!
Actually, I'm giving away five (5) – count 'em, five – copies of the latest way-cool Putumayo world music CD release Italia, which is a collection of songs recorded by contemporary Italian singer-songwriters.  A portion of the proceeds from the sale of Italia will be donated to the Italian-founded organization EMERGENCY, which provides medical/surgical treatment to worldwide civilian victims of war, landmines and poverty.
None of this has anything directly to do with stemware, except for the fact that I wanted to give away these promo copies of Italia, and I've been itching to write about wine stemware, so yet another bizarre 1WineDude combination has been born. Sorry!
Anyway, if YOU want to win one of the five giveaway copies of Italia, all you need to do is leave a comment on this post telling us about what stemware you use to drink your wine, and why.  Using a secret process that involves my dog, I will randomly select five winners from the comments.  It could be YOU!…
Read the rest of this stuff »