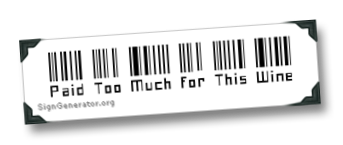 Last week, after I spoke out against NJ Assembly Majority Leader Joseph Cryan publicly dissing his own wine-buying constituents, I received quite a bit of feedback (comments and e-mail) about something I wasn't talking about.  Namely, not reporting from the battlefield of the wine shipping fracas taking place among the rolling hills of my home state, the Commonwealth of Pennsylvania (one of – if not the – worst control states in our fair Union).
In response, I can offer two tidbits as potential justification:
1) Blogger Lew Bryson is doing a fine job of detailing all of the latest PLCB debacles and on-again/off-again satutus of PA's move towards Privitization, and I've little to offer above-and-beyond Lew's excellent and opinionated coverage. For a pertinent example, check out Lew's tirade about the state's failed automated wine kiosks – turns out the PLCB knew that the kiosks had little chance of succeeding before they deployed them (I had a similar view of their potential success published around the same time).
2) I'm anticipating the potential for a lot more insider coverage coming soon on the PLCB and the drama of the changing state of alcohol distribution in PA, since I've agreed to be on a focus group for a PLCB Wine Advisory Council member.
Yes, you read that correctly. I've been hand-picked by a member of the PLCB's Eastern PA Regional Advisory Panel to join a cabinet/focus group, which has as one of its priorities advancing the pace of change to improve the currently (very) sad state of wine distribution affairs in the Commonwealth…