Yesterday, NPR.com posted one of the latest Radio Times episodes in which host Marty Moss-Coane interviews PLCB Chair Patrick Stapleton and anti-PLCB Blogger Lew Bryson.  The two face off for a short time, and Lew delivers a bit of a smack-down.  Several callers also mentioned that PA seems to have one of the most bizarre sets of alcohol sales and distribution laws that they've ever seen, and challenged several of Stapleton's assumptions (hats off to 'em!).  The interview triggered the recently-dormant anti-PLCB genes that I have oozing around in my DNA.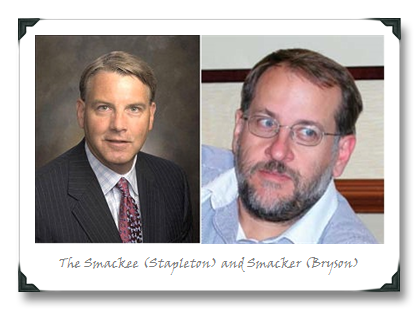 Personally, I was flabbergasted by some of the statements that came out of Stapleton's mouth during this interview, because they demonstrate what feels like a rather serious lack of respect that the PLCB seems to have for its own customers; customers who, it seems, the PLCB would prefer don't (or, perhaps, they assume aren't intelligent enough to) refer to things that might give them a different view on PA wine sales than that being painted by the PLCB.  You know, pesky and irrelevant things, like facts.
My take on some of Stapleton's statements from the interview are below after the jump, along with the podcast stream of the full NPR episode. I feel a rant coming on… you've been warned…
In terms of deconstructing some of the madness in this NPR interview, let's start with the case of why PLCB store employees have a perception of being unhelpful and lacking even basic knowledge of the products that they sell.  According to Stapleton, the PLCB is legally hog-tied and has to hire an incompetent workforce; Stapleton actually blames the hiring system for the sad state of customer service within the current state-run alcohol sales system (you know, those people who claim that Cabernet Franc doesn't exist) – all quotes are transcribed directly from the interview, by the way:
"Relief from civil service would be a huge step up for us."
Let me get this straight: somehow, it's easier to change state legislation than train the PLCB workforce?  That is such a sad conclusion that words fail to convey how ridiculous the situation truly is.
Lew (as well as some of the show's callers) asked he obvious question: why not just privatize, Patrick?  Two reasons, apparently:
"We produce a good revenue base for the Commonwealth" – This totally ignores the fact that the PLCB is run so inefficiently that it's profit is an abysmally low percentage of its income. I won't even start on Stapleton's take on how damaging privatization would be to the PA state coffers – there's already quite a bit written to counter that argument.
"The peer-reviewed scientific literature on the subject… indicate clearly that there are fewer problems related to the sale of wine and spirits in a control state environment… these are facts that are born out not only in Pennsylvania but all over the world."  This is, simply put, a lie – or at least, that's the view that any reasonable person should come to when they consider the actual facts: Pennsylvania's underage drinking rate remains above average for the 50 U.S. states ( http://www.oas.samhsa.gov/2k6/stateUnderageDrinki… ) and the Commonwealth remains above average in DUI fatalities per mile driven ( http://www.usatoday.com/news/nation/2009-12-07-dr… ). Sadly, Stapleton comes back to the abuse/protection angle time and again in this interview, which I think demonstrates how feeble the pro-PLCB argument is quickly becoming.

It's tough to blame PA residents I think, if they conclude that the PLCB is not only lying to them but also isn't delivering on all of its promises or potential value for money. Or, as one of the NPR show's callers put it, the PLCB has had 75 years to sort this out, why should PA state residents assume that they will suddenly get their act together?  Simple: they shouldn't.
NPR Podcast: Lew Bryson Brings The Smack-Down on PLCB Chair Patrick Stapleton
Cheers!