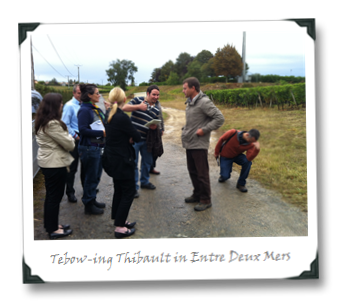 I haven't always been kind to Bordeaux. Okay, actually I've pretty much never been kind to Bordeaux.
But that's because Bordeaux's most visible stand-bearers – the classified growths at the high-end of the production spectrum, making wines that most of us 99%-ers cannot afford – hasn't really been all that kind itself to the general wine marketplace, pricing its wines more in-line with rampant consumerist greed than with real value for money.
But that's not the only Bordeaux story – it just happens to be the most prevalent one. There's another side of Bordeaux, the side that produces something like ninety percent of its wine, priced in the budget ranges and made in volumes that make California look small-time. Put another way, in the words of Chateau Rauzan Despagne's Thibault Despagne (who I met while touring Bordeaux in September as a media guest of Planet Bordeaux):
"We always hear that Bordeaux is arrogant and too expensive. And yes, I agree – but that isn't the only story. The journalists are the problem."
And I came to realize during my Bordeaux jaunt that Thibault isn't wrong – we do spend an inordinate amount of time complaining talking about the upper-echelons of Bordeaux, and often don't recognize the lower-end – the 99%-ers – of Bordeaux at all. But it's not without some justification; there's still a lot of bad low-end wine being made there.
But… having said that… I did get a bit of a crash course in non-sucky Bordelaise wine, and I can't actually review it (at least, not conventionally – more on that in a minute), because I got that crash-course Bordelaise style…