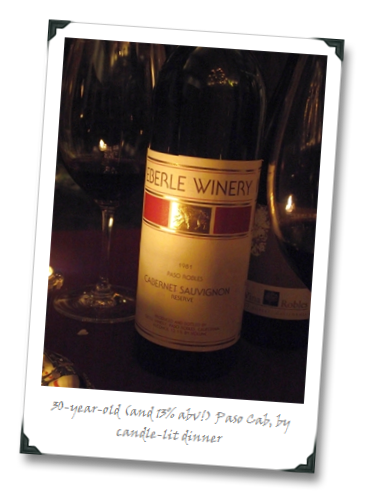 There's one thing you need to know about Paso Robles wine country.
It can get hot.
And I'm not talking about the Summertime temperatures, or even the Indian-Summertime temperatures, which had busted through the 100F mark not too long before my visit to Paso in October.
No, I'm talking about the wines.
After tasting through a small score of the vino on offer from several of Paso's wine producers, the most prominent takeaway was that there were so many wines that were made from very, very ripe fruit – wines that generally exceeded 14% abv in the whites and regularly hit over 15% abv in the reds.
That is not an inevitable conclusion for Paso Robles wine.  And I know this because it wasn't always the case.
During my Paso visit, I dined at the home of Gary and Marcy Eberle, who own Eberle Winery in Paso. Over the course of our meal (also attended by representatives of several other Paso producers), Gary opened a few bottles of Eberle Cabernet Sauvignon Reserve from the early 1980s. Those wines were a far cry from being dead – in fact, they were vibrant, with juicy red fruits underpinning aromas of dried herbs.  In other words, those wines were refined, food-friendly, and eminently drinkable.  The abv? About 13%…