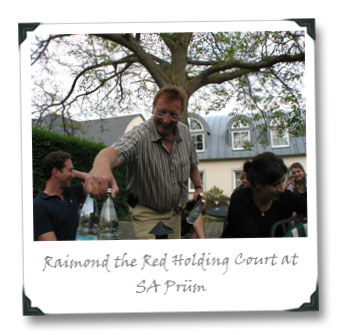 If I have a love affair with any one fine wine grape, it's got to be Riesling.  I'm not a fan of saying that a particular grape is superior to another when it comes to producing fine wine, but we all have our preferences and at the end of the day if you forced me to pick one variety for stocking up wine for a stranded-on-a-desert-island scenario, it's going to be Riesling for me.   There's just something about the purity, diversity, and transmission of a sense of place (while still retaining a 'signature' that clearly defines it) that Riesling delivers like no other wine grape.
So when I found out that TasteLive.com and Wines of Germany had lined up Mosel Riesling producer Raimond Prüm's wines for a Twitter Taste Live event… well, I was sooooooo there.
Raimond Prüm is the tireless, red-headed force behind all things SA Prüm, which is by any account an historic producer of (very, very good) Mosel Riesling.  I had the pleasure of being Raimond the Red's guest earlier this year when I toured Germany's wine regions with a group of journalists, stopping last at SA Prüm in the Mosel.  The thing I remember most about "Der Specht" (so named due to his red coif) was the way that he pronounced the word "unbelievable" when describing Mosel wines (as in, he constantly referred to the wines of the Mosel as "unbelievable").  Raimond drawls the first syllable, stretching it to a verbal breaking point, then smashes the remaining syllables together quickly and decisively.
"I'm telling you, the wines are uuuunnnnnnnnn… beliveable."
He said this. A lot.
He's also a pretty good cook when it comes to  his outdoor grill, and generous when it comes to sharing that food and showcasing his wines.  Oh, yeah, he's also one hell of winemaker, and justifiably proud of his wines, which consistently over-deliver with seriously powerful QPR Kung-Fu – many of them are excellent, and several are under $20.  It helps that "Der Specht" is presiding over some of the most favorable sites for growing Riesling in the Mosel, where small changes in sun exposure can have a huge impact on the ripeness potential of Riesling and various soil types help to impart differing flavors and minerality to the wines.
It also helps to have a personality eminently suited to a Twitter Taste Live event, and a family winemaking history rivaling the grandest in all of Germany…