A group of young, talented winemakers are on a mission to change the perception of wines from the Rheinhessen; a look at one of those winemakers reveals just how dramatic – and successful – that change might be…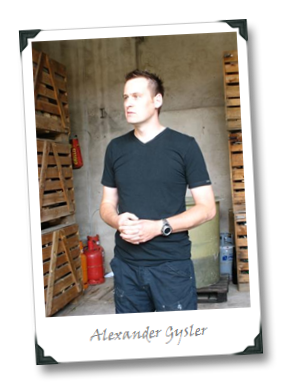 The first thing one notices about Alexander Gysler… is that he's tall.
Even for Germans this guy is tall.  Even to a traveling writer of Mediterranean decent who is 5'5", and to whom everyone seems tall, he's tall.  Alexander towers a good head height over everyone in our traveling party.
We're in Weinheim, having arrived at noon after a wine-related guided city tour of Mainz.  The previous evening, I'd been given an introduction to quality Rheinhessen wines over dinner in nearby Oppenheim, our hosts being a trio of winemakers that belong to the group Message in a Bottle – an organization of young winemakers who are trying to undo the sins of the Rheinhessen's past, at least in terms of wine.  Judging by their output – especially the bone-dry but somehow still very well-balanced Riesling Auslese from Pfannebecker, they're starting to succeed.
Which brings us back to the big guy, Alex.
To hear Alexander's story is to get a glimpse into the history of Rheinhessen wine.  Despite his formidable size, Alexander is soft-spoken, almost quiet, but quick with a smile or short laugh.  He's also understated.  Case in point: His 2008 Huxelrebe Beerenauslese was recently chosen as a showcase German wine on offer in Lufthansa's first class service.  And it might be the best Huxelrebe you've never tasted, with honeysuckle, lemon, and grapefruit aromas, balanced with vegetal and citrus notes and a honeyed finish that clocked in at 20+ seconds.  When I asked Alexander how he managed to score the Lufthansa gig, his answer was short and almost as sweet as the wine itself: "We were very lucky.  In Germany, it's impossible to sell sweet wine."
Which brings us back to the story of Rheinhessen wine…
The Rheinhessen is sometimes called "land of 1,000 hills," and rolling slopes typify the landscape, which was carved out by a turn in the Rhine river as it sweeps its way from the city of Mainz towards Bingen.  Despite being shaped by the river, the Rhine is not the dominant influence on the viticulture in the Rheinhessen – instead, it's the forested hills to the west and the Rhine Terrace to the east that moderate the climate, and gave birth to what is now the largest and one of the most diversified areas of vine growing (and farming) in Germany.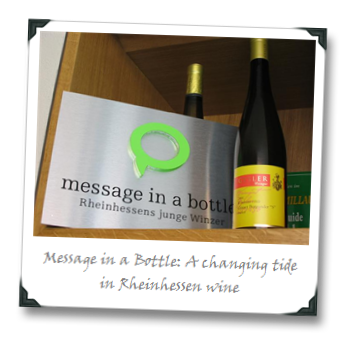 The fertile soils here have birth both culturally and physically to Libfraumilch – the sweet, easy-drinking wine (sone would say plonk) that came to represent the Rheinhessen to an entire generation of wine drinkers.  Think "Blue Nun."  Yeah – that bad. The Rheinhessen region has yet to recover, and it's largely wines coming from this region that are responsible for the current severe backlash against sweeter wines by German consumers.
All the more remarkable then that Lufthansa would chose a sweet wine made from a crossing as an example of a showcase German wine.
Through superior winemaking and viticultural techniques, and a renewed focus on quality, Alexander and the rest of the Message in a Bottle members are trying to change all of that nasty perception of Rheinhessen wine.
Which brings us back to Alexander's story (try to keep up, will ya?).
The Gysler family has deep roots in the region, and their winery was constructed around 1750.  Alexander's father, Gernot Gysler, had very a focused approach when it came to making wine, and that was to grow as many grapes of newer crossings as possible and to spend the effort constructing the finished wine in the cellar.  In October of 1999, Gernot died, leaving the Gysler winery – as well as placing the burden of finishing the vintage – to Alexander, who was then fresh out of Geisenheim University.
As Alexander worked his way through successive vintages, he adopted styles of viniculture and viticulture that are nearly polar opposites to those laid out by his father.  Newer crossings were replaced by more classic Rheinhessen varieties, like Silvaner and Riesling, meant to highlight the diversity and typicity of the region.  Instead of keeping the meticulously clean vineyards he father cared for, the winery embarked on a multi-year effort to go biodynamic.  The philosophy of crafting the wine primarily in the cellar was abandoned in favor of focusing almost entirely on the vineyard, with reduced yields.  Gysler wines are now relatively untouched before bottling – fermentation takes place in water-cooled stainless steel tanks, and there is only one filtration before bottling.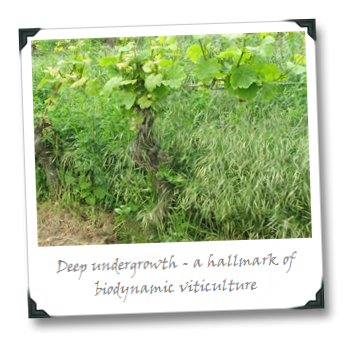 The Gysler vineyards are windy and overall a bit cooler than the average spot in the Rheinhessen.  This allows them to produce wines with a nit lower alcohol and higher acidity.  Their Riesling vines are on average 40 years old, and grow mostly on red sandstone hills with sandy subsoil, all of which results in concentrated fruit with a good period of ripening, since the sandstone provides decent drainage and allows for rapid warming.  In other words, there's no reason why plonk would need to be made here.
The result of all of this work and the favorable sites, according to Alexander, is wines that are "livelier, with more structure and more elegance."
Over lunch, we sat in a small modern, sleek tasting room, which contrasted sharply with the winery's old house and its courtyard complete with a playset for Alexander's two young daughters.  We tasted through Sekt, Silvaners, and Rieslings dry and sweet, ending with the storied sweet Huxelrebe.  The wines were varied in their profile and food-friendliness, but all of them were well-balanced and very, very good.
The word "elegant" came up several times in my tasting notes.
Rheinhessen Rieslings often get shorter shrift than the fuller-bodied, more bombastic counterparts from their neighbors in the north (the Rheingau), or the more structured examples from their neighbors in the west (the Nahe); in the northwest, Mosel Riesling winemakers almost never mention the Rheinhessen when talking about competing German wine regions.
But the times, as they say, are a-changin'.
Cheers!
(images: 1WineDude)