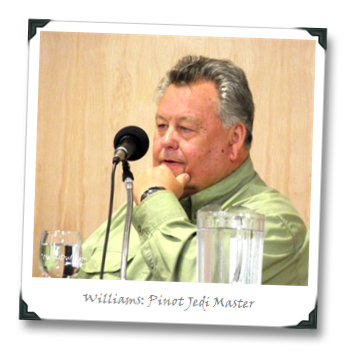 Burt Williams might speak softly and have a relatively unassuming appearance, but when it comes to age-worthy, elegant Pinot Noir he is one hundred percent deadly Jedi Knight.
That much was clear during the recent West Of West festival in Occidental, CA (I attended as a media guest), where Littorai's Ted Lemon interviewed Williams to kick things off.  It was tough for me to pay attention, because a) there were Sonoma Coast Pinots sitting in front of me ranging from `96 to `01, and I was ready to geek out, and b) I found the entire event confusing, because I'm an anal Right Coast guy who requires exposition and purpose stated clearly up-front, and the WoW Fest proceedings launched without much detail on either.
Fortunately, possessing a formal plan is not a prerequisite for making great wine.  In fact, to hear Williams tell it, very little about Sonoma Coast Pinot Noir was planned in the early days when he first starting making Williams Selyem wine in his 'spare' time. "We got a call from an ATFA agent," he mentioned, "who basically told us that we should get bonded before we got arrested; so, we got bonded."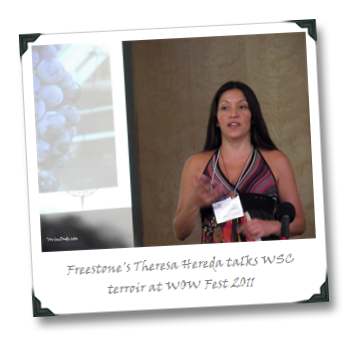 Williams also told us that "if the wine is balanced… if you pick the fruit before it's really ripe… I know Sonoma Coast [Pinot Noir] can age!"  Proof is in the vinous pudding: the 1996 Williams Selyem Riverblock Pinot Noir (about $100 if you can find it, and an 'A' rated wine if I've ever had one) is delicate, earthy and svelte, with cherries, plums, spices and hints of game meat. The finish could accurately be described as gorgeous; it's a wine that doesn't smack you over the head, but seduces you.
And it's in drinking wines like that 1996 Pinot – wines which seem to be made at a more-than-expected frequency in the West Sonoma Coast area – that you say to yourself (if you're me, anyway): "F*ck Napa Valley Pinot – this is where it's AT!"…