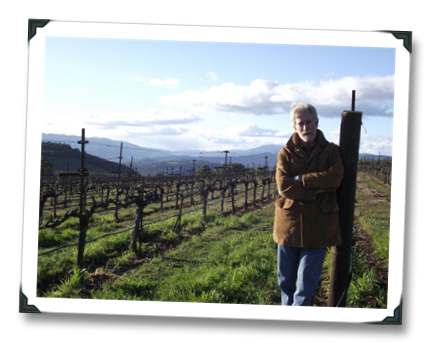 Tim Mondavi's eyes betray almost everything in their expressiveness; probably more than he realizes.
One moment, when recalling some memory or detail of spearheading the development of Opus One, they might be bright, almost dancing, even though his demeanor is serious and workmanlike – as if there's something fond and comforting about revisiting the time for him.  The next, they're sharp and piercing despite his relaxed posture and polite phrases (in this case, when I mentioned someone in the CA wine industry with whom I suspect Tim doesn't see eye-to-eye).
Occasionally eyes, words, and demeanor align like stars in a constellation: for instance, when Tim recounts – using a rather damn good Godfather impersonation – his frustration in once having to hold up a large canvas over a series of days in Mondavi's famed To Kalon vineyard so that his daughter, Chiara, could finish painting the image (titled "Light  of the vine") that would grace the label for his budding high-end red wine project, Continuum.
I spent the better part of five hours picking Tim Mondavi's brain on a sunny day in late February, when visiting Continuum's Pritchard Hill estate as a lunch guest; as far as Tim knew, I was coming to get a taste of the 2008 vintage of a wine brand that I've already publicly praised as being well-worth seeking out even if it is pricey. But as far as I was concerned, class was in session, the topic was the history of Napa winemaking, and I was the student.  I just had to convince Tim – who has been around since the earliest days of the development of Napa's modern fine wine industry – to start teaching.  Not easy – but turns out it was well worth the effort.
Lesson one: the only living things in the Valley with more wine-related history than the Mondavis probably have wood for arms and grapes for children; that history doesn't guarantee great wine, but it sure as hell doesn't hurt your chances any.
Sunny days on Pritchard Hill, in Napa's eastern ridge, provide for a glorious view (Oakville and Lake Hennessey are a stone's throw away, and on a good day you can pick out buildings in downtown San Francisco), so we took to a 4×4 and toured the forty-odd acres of Continuum's vineyard plantings, on land that once belonged to a former marine biologist.  Stopped for a moment at a spot that overlooks the estate's farmhouse, Tim recalled how his father reacted to the site.
"In 2008, just before my father left for the great vineyard in the sky, we took him up here to see the vineyard, right before we purchased it," he said, pointing directly to the spot where he helped an ailing Robert Mondavi take in the view. "He was in a wheelchair by then, and he couldn't talk much.  But when he saw this vineyard, his eyes lit up."
That explains the eyes, right?…